The folks in Madison are getting excited.
That's because Wisconsin is one of three Big Ten teams off to a 4-0 start (Iowa and Michigan being the other) after beating Michigan State 38-30 on Saturday.
The Badgers moved up from No. 41 to No. 31 in the latest CBSSports.com 120, one of the largest jumps of the week.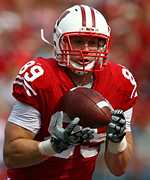 For a team that was projected to finish fifth or sixth in the conference, the Badgers are enjoying their early season success.
"I'm not worried about rankings," coach Bret Bielema said to the Milwaukee-Journal Sentinel. "I'm just worried about getting better ... If it gets us ranked, it gets us ranked. If not, we'll just go on and do our business."
And doing business is exactly what they are doing.
One of the biggest reasons for the team's early success is quarterback Scott Tolzien.
The junior, who never started a game before this season and threw only eight passes in college, is ranked 13th in the nation in passing efficiency. To put it in perspective, Kansas' Todd Reesing is 27th, Texas' Colt McCoy is 29th, Penn State's Daryll Clark is 54th and Ohio State's Terrelle Pryor is 57th.
Tolzien is 66-of-99 for 884 yards with eight touchdowns and only two interceptions. He has spread the ball around too as three players have at least 200 yards receiving.
"I love how smart he is, he's making the right decisions, the right looks and knows when to throw it away when he has too," said offensive lineman Peter Konz. "It's really comforting knowing as an offensive lineman that you're not going to have to go chase anybody down for an interception or he's going to scramble, and you might let up a sack."
Wisconsin is playing close games, but this season is winning them. Three of their four wins have been decided by eight points or less. It opened the season beating Northern Illinois 28-20 and beat Fresno State 34-31 in overtime.
Last year the Badgers lost three key conference games by three points or less.
"This is not the same team from a year ago," Bielema said. "There's more accountability among the players. They've done things differently."
Things get real tough for Wisconsin the next three games as it plays at Minnesota (Oct. 3); at Ohio State (Oct. 10); and Iowa (Oct. 17).
Idaho
The Vandals usually find themselves down in the 100-rankings, but have started the season at 3-1. Idaho jumped up from No. 105 to No. 83 this week after beating Northern Illinois.
Idaho has also beaten New Mexico State and San Diego State. Its only loss was to Washington. If the Vandals can keep it going, it might make grab one of the WAC's bowl bids. Idaho hasn't played in a bowl since 1998, when it beat Southern Miss in the Humanitarian Bowl.
Notes
Four non-BCS teams are ranked in the Top 25 with Boise State leading the way at No. 4. TCU is No. 9, Houston is No. 11 and BYU is No. 23. Utah just missed at No. 29. Central Michigan is 3-1 and at No. 46.
Nevada remains the highest-ranked team without a win, checking in at No. 89. The Wolf Pack has had a tough schedule, losing to Notre Dame, Colorado State and Missouri. Those three teams are combined for a 10-2 record.
Washington fell nine spots after jumping up to No. 36. After beating USC, the Huskies moved from No. 80 to No. 36, but fell back to No. 45 after losing to Stanford.
The lowest-ranked undefeated team is Texas A&M at No. 59. Despite going 3-0, the Aggies have the 118th-rated strength of schedule. They have beaten New Mexico (No. 106 and 0-4), Utah State (No. 114, 1-2) and UAB (No. 112, 1-3).