Loveable losers are losers no more.
Two historically bad programs -- Army and Duke -- both earned big victories this weekend to improve to 3-3 and get their schools and fan bases to start thinking about the unthinkable ... a bowl game.
Army knocked off Vanderbilt 16-13 in overtime to move up to No. 86 in the latest CBSSports.com 120 . It was the first time Army beat a SEC team since 1988, ironically, when it beat the Commodores.
First-year coach Rich Ellerson already has the team with the same number of wins as they finished with the last three seasons at 3-9 and is eyeing more.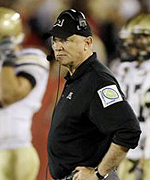 The Black Knights haven't been to a bowl since going 10-2 and playing Auburn in the Independence Bowl in 1996. It was the last time they had a winning record, but with a remaining schedule featuring Temple, VMI and North Texas, the Black Knights hope to get to 6-6 and earn an EagleBank Bowl invite.
The EagleBank Bowl signed a deal with the Black Knights that if they become bowl-eligible, they will play in Washington D.C. against an ACC team.
The defense has been playing fantastic and ranks 28th in the nation in total yards allowed and is 41st in the nation in points allowed.
Linebacker Stephen Anderson leads the team with 51 tackles, including 31 solo, while safety Donovan Travis is tied for second in the NCAA with four interceptions. Defensive lineman Josh McNary is fourth in the nation in tackles for a loss with 11.5.
"If our defense will play like they have been playing, we'll have a chance every week. We played well and have done a good job of building a fence around our opponents' offense," added Ellerson. "We have some play-makers and some guys that do a beautiful job of clearing because the other team makes plays and gets themselves in scoring position, but we don't freak out. We just reload and play the next play."
One of the team's Army actually lost to earlier in the year is also making waves in the ACC.
Duke scored a huge upset on the road against N.C. State, ending a 20-game conference road losing streak. Many thought the Wolfpack would be one of the favorites in the Atlantic Division, but the Blue Devils racked up 49 points and Thad Lewis threw for a career-high 459 yards and five touchdowns.
The Blue Devils moved up to No. 67 in the CBSSports.com 120 rankings this week.
"It's kind of surreal," head coach David Cutcliffe said to the Winston-Salem Journal. "We haven't felt this way in a long time at Duke."
The last time Duke had a winning record was in 1994 when it went 8-4 and lost to Wisconsin in the Hall of Fame Bowl.
Things start to get much tougher for the Blue Devils with North Carolina, Georgia Tech, Miami (Fla.) and Wake Forest on the horizon.
"All you got to do is look at what happened last year in the ACC. The ball can bounce a lot of ways. There is a lot of football left to be played. Anybody can beat anybody in this league."
Notes
... Speaking of losing teams, there are now seven winless teams remaining. Three of the teams are in the MAC -- Ball State, Miami (Ohio) and Eastern Michigan. Two are Sun Belt squads (Florida Atlantic and Western Kentucky).
... SMU made a big jump in the rankings this week, leaping from No. 104 to No. 68 after beating East Carolina. June Jones has his team on the right track and at 2-0 in Conference USA, the Mustangs might be headed to their first bowl since the 1984 Aloha Bowl.
... Georgia took a big drop, falling to No. 47 after getting smoked against Tennessee. The Bulldogs are 3-3 and still have to play Florida, Auburn and Georgia Tech.
... Middle of the road: With 120 teams, Marshall checks in at No. 60 at 4-2. There are about as close as you can get to being the most average team in the nation as their strength of schedule is 65th.
... Of all the teams in the Top 25, Virginia Tech's strength of schedule still ranks No. 1. Having played Alabama, Nebraska and Miami (Fla.) pushed its schedule to No. 1. It should start to get weaker with games vs. Maryland, N.C. State and Virginia to close out the season.