"Wherever you are John, you must be laughing your ass off. Because this, this is even crazier than you are." -- Jack to Locke's corpse

Lost is getting crazy. Maybe even too crazy for some people. The show has strayed far from its character-driven-flashback roots and gone well, completely sci-fi on us. I'll be interested to hear what you think about this evolution.

But first, let's recap. We start the episode in the early 1970s, at the heyday of DHARMA. We don't know this yet, but we will by the show's end. That's because we encounter Jin jamming to a '70s ballad (correct me if I'm wrong, but was it Stephen Stills' Love the one you're with ?) in a DHARMA VW van. I'll have more on this at the end of the blog.

The show starts with Jack's eye, just like The Pilot . He awakens, blinks a bunch of times (I know somebody has something on say, the number of blinks). Theories abound about what this sort of opening shot entails, but I like the idea of each character being an avatar, and this moment is when they come online. Could Jack be re-starting?

He hears screams from Hurley, who's doing his best Little John impersonation in a lagoon. Two things here:

A. How could Jack hear Hurley? Surely his screams would have been rendered inaudible because of the waterfall and the distance?
B. Is Jack somehow more in tune with saving people now that he's back on The Island?

He also finds Kate, who's conked out on a rock. All three question what the heck just happened to them.

We then are flashbacked 46 hours (numbers alert: 42 + 4) to 2008. There Sun, Jack, Desmond and Ben meet with Eloise Hawking.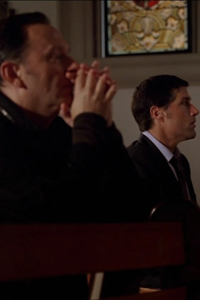 How do we know Eloise Hawking? She's played by Irish actress Fionnula Flanagan, who cut her chops on Showtime's Brotherhood . She also wouldn't sell Desmond in a ring to marry Penny.

Hawking takes the four to the DHARMA Station the Lamp-Post, a place where she keeps track of where The Island will be.

The Lamp-Post is a literary nod to C.S. Lewis, the author of The Lion, Witch and the Wardrobe . In that book the lamp-post marks the passage between Narnia and the real world. Fans of the series have likely seen numerous connections between Lost and Lewis, including the opening scene of this episode, 316 , when Hurley was in the water.

At the Lamp-Post Hawking says, "if this is confusing, I apologize," which is really the producers of the show telling fans we know some of you aren't all into the sci-fi turn, but it had to be this way. Hawking tells us The Island is always moving, which may help explain The Whispers at some point.

She also keeps a binder of flights that will pass over the future location of The Island. She informs us that there are windows in which one can return to The Island. Also, the binder shows a photo of The Island from 9/23/1954 (numbers alert). The crew is told that they must be on Ajira flight 316 in order to return to The Island.

We also learn The Island isn't done with Desmond. Why not? That may have to do with Ben. Later in the episode Jack gets a call from a "sidetracked" Ben, who's stuttering and bloodied. Could he have been making good on his promise to Widmore to harm Penny? He was calling from a payphone near a dock. Could Penny and Desmond's boat have been there? Could Desmond now be pursuing Ben, hence bringing him back to The Island?

Back at the Lamp-Post, Hawking gives Jack a suicide note from Locke, which says "Jack, I wish you had believed me. JL." Jack is also told that Locke will serve as a proxy for his father and that he'll need something of Christian's. A pair of high-end shoes that belonged to Christian fit the bill. Jack recovers them from his antsy grandfather, Ray, played by Raymond J. Barry.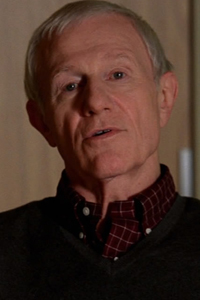 A. Jack has a grandfather?
B. His grandfather looks way too young and able-bodied to be his grandfather
C. His grandfather sure has a lot of Kate in him

Jack returns home to find Kate there. She makes him promise never to bring up Aaron. The two kiss and bow-chicky-bow-wow make up. Could she have become pregnant, creating a Sun-like scenario back on The Island? If so, could we already know the offspring since it would have been born in the early 1970s? Maybe I'm getting a little derailed here. Maybe it was just Kate putting some closure on their relationship. After all, she was a bit cold from here on out.

Jack picks up Locke's corpse from Jill the butcher, puts his dad's shoes on it and comes to grips with the "leap of faith" he's making. The man of science is subscribing to faith, after all.

That brings us to the title of the episode, 316 , which alludes to two things, the bible and Narnia. Here's the famous John 3:16 quote:

"For God so loved the world, that he gave his only begotten Son, that whosoever believeth in him should not perish, but have everlasting life."

Is Locke the begotten Son? Is Jack?

How does this tie in with Ben's description of the Gospel of John, where St. Thomas the Apostle, who doubted the resurrection of Jesus until he could actually touch the open wounds?

From a storyline perspective, could Jack's evolution to man of faith (or at least man willing to take leap of faith) help keep the show grounded, and not completely sci-fi channel fodder?

At the airport, Jack gets his boarding pass for flight 316 and sees Kate, and a handcuffed Sayid (reminiscent of how Kate first flew over The Island). Also on board the flight are Hurley (with a guitar case ala Charlie), Sun and beat-up Ben. Hurley purchased about half the flight's seats (to seemingly save innocents) and piloting the bird is a clean-shaven Frank Lapidus, looking more Lawnmower Manish then we're accustomed to.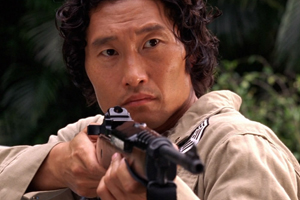 On board, Ben is reading Ulysses . Jack asks him how are you reading? Ben says, "my mom taught me." OK, that's hilarious because of the deadpan delivery and interesting because Ben never knew his mother. Anybody care to speculate on connections between Ulysses and Lost?

Also in first class is a mysterious man named Caesar. Could he be working for somebody? Maybe Hawking? Maybe Ajira? Maybe Widmore? Maybe Alpert

The plane starts shaking, and a bright light shines on it. Next thing we know Jack, Hurley and Kate are back on The Island. They encounter Jin. WTF, you may be asking?

Here's my theory. When Locke turned the donkey wheel last episode, he shot The Island back to the early 1970s. The Island also stopped skipping. So the crew is stuck in that time. They hence took jobs to blend in. Jin is back working as muscle. Faraday, who we saw in Because you left , is working construction near The Island's time-traveling center, The Orchid. My guess is we're going to pick up where season five's premier left off, with a heavy dose of Dr. Pierre Chang.

That's all I have for now, let's yuck it up on board below.