"Cause I gonna make you see, there's nobody else here, no one like me. I'm special, so special. I gotta have some of your attention give it to me." -- Brass in pocket, Pretenders
Last night's episode, "The Life and Death of Jeremy Bentham," took us on a wheelchair ride with Jeremy Bentham, John Locke's mainland pseudonym, as he struggled to recruit the Oceanic Six back to The Island and with his own battle regarding whether or not he is, as Charles Widmore and Ben Linus come to tell him, "special."

After turning the big ol' frozen donkey wheel in "The Little Prince," Locke was sent to Tunisia, which apparently is the landing spot for those who move The Island. Funny how different the two environments are: Subterranean ice layer vs. dry desert. Locke vomited, like Ben did, and was eventually rescued and put on the mend by Widmore's camp.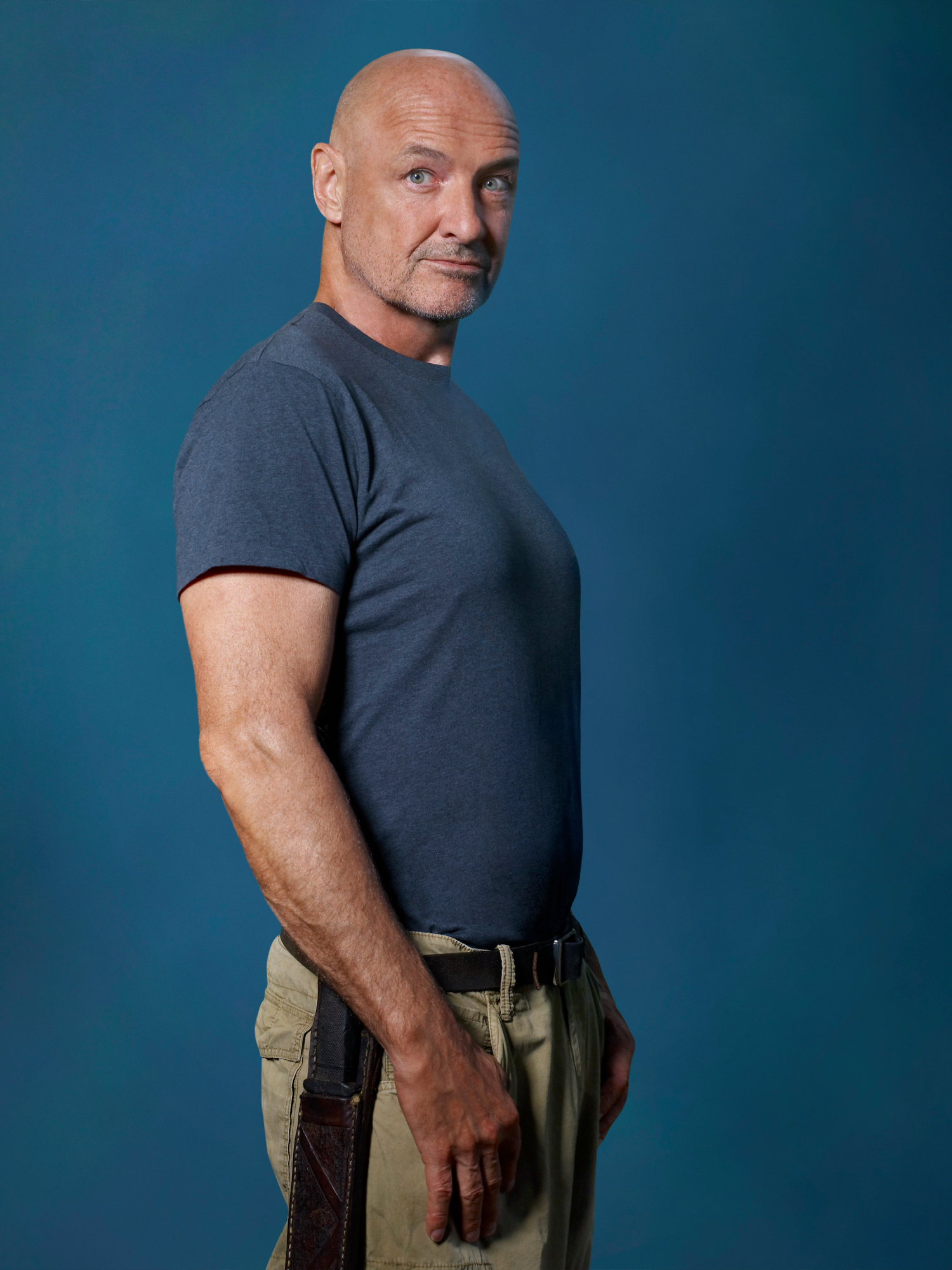 Why is Widmore monitoring this Island drop-off spot in Tunisia? More importantly, why is he just so into Locke?

Locke and Widmore met during the episode, "Jughead," when Widmore was a crass 17-year-old Latin-speaking Other under the leadership of Richard Alpert in 1954. In the 54 years since, Widmore has aged like any man wealthy British man would. Locke meanwhile, looks exactly the same. This has Widmore slightly perplexed. Particularly since, as we find out, Widmore used to be the leader of The Island for three decades, until he was exiled.

Interesting word choice: exiled. In Greek tragedies, being exiled was a fate worse than death. A nation can also be put in exile. The Jews have been exiled a few times in their history. But the most famous exile in history is probably poet Dante's, who was forbidden to return to his beloved Florence. He wrote "The Divine Comedy" while in exile, and here's a passage from it, on his exile:

"You will leave everything you love most: this is the arrow that the bow of exile shoots first. You will know how salty another's bread tastes and how hard it is to ascend and descend another's stairs."

There should be one word in there that sticks out. "Arrow." As in The Arrow station on The Island. As in the bow and arrow used by Eloise Hawking's crew in "Jughead."

The other part that sticks out for me is: "how hard it is to ascend and descend another's stairs." Maybe I'm taking the crazy pills when I don't need to, but being wheelchair-bound would likely prohibit most from ascending or descending another's stairs.

John Locke retorts, "I wasn't exiled, I chose to leave." Could he be wrong? After all, he was not absorbed by the white light that made Kate, Sun, Jack, Hurley and Sayid go poof off the Ajira flight.

Or, maybe Locke is just his own type of special. After all, Widmore says it's "because you are," when asked by Locke, "what makes you think I'm special?"

Widmore also tells Locke, "I'm deeply invested in the future of The Island," and that he'll "do everything in my power to help you bring them (Oceanic Six) back."

To that Locke asks, "why?"

Widmore, why do you want to bring them back?

"Because there's a war coming and if you're not back on The Island when that happens, the wrong side is going to win. You bloody moron!"

OK, so he didn't call Locke a moron, but he did seem patronizing. To recap this exchange according to Widmore:
He used to run The Island
He was exiled
He wants the Oceanic Six to go back
He's been watching them like a hawk
He wants Locke to live and return to The Island
He doesn't know why Alpert told Locke he must die

What of those are true and what aren't? He definitely was keeping tabs on the Oceanic Six. We can probably assume Widmore was exiled. And heck, he may have at one time run the whole Island show.

But war? War as in Hostiles vs. Dharma? War as in the one Ben ended by gassing the D.I.? War, as in what is it good for, absolutely nothing? It just may be good for nothing if Widmore can reverse the course of events and prevent Ben from being Alpert's choice to exterminate the D.I.

Let's contrast Widmore's chat with Locke to Ben's chat with Locke.

Ben tells a near-suicidal Locke:
I'm watching the Oceanic Six, keeping them safe
You're the reason I moved The Island, so you can lead
You have no idea how important you are
Jack bought a plane ticket

But let's not overlook the suicidal part of the equation, and it ties back into Dante. Exiled from Florence, Dante starts his "Inferno" with thoughts of suicide. However, it's Virgil, his guiding spirit, who stops him. Together the two begin their journey through the rings of Hell. Suiciders do have a reserved place in the seventh circle of Hell, by the way.

Let's continue with Dante for just a little bit more. Virgil, the Roman poet, is his guide through Hell. Dante's guide through heaven is his true love, Beatrice, who died young. Locke sought his true love, Helen, throughout the episode. And if only she were alive, things would be different, Locke says.

Could Ben be Virgil and Helen Beatrice? Ben is, after all, highly literate. Like Virgil, Ben is in a sort of limbo. Is he still a part of The Island? Is he driven by revenge? Is he driven by altruism? Is he driven be Hawking?

Locke proceeds to tell Ben about Eloise Hawking's presence. Ben, clearly agitated, strangles Locke to death. Was Ben killing out of rage, or purpose? I say purpose. Virgil stopped Dante from suicide in order to guide him down to Hell. If Dante had killed himself, he wouldn't have been able to take his journey; rather, he would be relegated to the seventh circle of Hell. If Locke had killed himself, he wouldn't be able to return to the place Charlotte called "death."

Virgil ends up getting Dante on the right path, which is symbolize by … the sun behind the mountain. Who was it that Ben said Locke still needs to contact? Oh yeah, Sun.

Also, contrast Ben's actions with Widmore's. Widmore's goal was to keep Locke alive. Was Ben's to kill him? A possible order from Alpert? Could Widmore vs. Alpert be two central players fighting for The Island?

Let's not overlook the role of Matthew Abaddon, played perfectly by Lance Reddick. Abaddon means "a place of destruction", "the destroyer", and "depths of hell." Some scholars believe Abaddon to be Satan. The fact he works for Widmore can't be a good omen for those who may be leaning toward Widmore as stealthy good guy. Abaddon is also the name of the bottomless pit in John Milton's "Paradise Regained," which deals with the temptations of Christ and is connected to Dante.

Temptations? As in, "let me know if there's anything you need, John Locke?"

As for Locke's mission to getting the band back together? On the surface he fails. Kate and Jack call Locke "lonely," and "not special," respectively. Hurley freaks out when seeing his connection to Abaddon. Walt, however, has had some dreams involving Locke in a suit on a beach among people trying to hurt him.

What to make of Caesar and Llana, the two apparent leaders of the Ajira lostees. Could they be working for Widmore? Could the entire plane be full of mercenaries? They seemed awfully organized in such a short time.

And what about the opening sequence? Caesar comes across some sketches that seem important and a Life magazine with the headline, "The Awesome Fireball," from 1957. It's a cover story with color pictures of a hydrogen bomb. One possibly named Jughead?

Some other things to talk about:
Widmore said Locke's parents had a sense of humor when naming him. His mom was barely able to scream out, "call him John!" before preemy Locke was incubated. His dad's identity is still a mystery.
Widmore said to dial 23 to reach me. Could the number sequence have ownership? Could Widmore own that number? Could it be a combination to a ... lock?
Where did Lapidus (and a woman) boat off to when the plane landed/crashed?
Why was Hurley drawing the Sphinx when Locke approached him?
Was Kate being smug or sincere when she said "look how far you've come," after Locke told her about how he used to "be angry, and obsessed"?
Helen apparently died of a brain aneurysm, which sounds a lot like what's troubling those who react poorly to time traveling.
On a lighter note, Locke was going to kill himself at the Westerfield Hotel, which just may be a Star Trek reference. Karen Westerfield was a makeup artist for several of the Star Trek TV series. Lost creator J.J. Abrams is producing the new Star Trek movie.
Lastly, is Locke special?
Bonus question: Is Jack … Jacob?