Of all the nefarious things Ben has done -- torturing the castaways, manipulating Locke, manipulating everybody, stealing Alex, blowing up the tanker, shooting Locke, banishing Widmore, killing Widmore's people, killing Locke -- who would have thought that when his time came "to be judged" by the Monster, it would be his A-OK'ing Alex's death that would be his defining blemish?

Like the mother-daughter relationships that defined "Whatever happened, happened" a few weeks back, "Death is death" is driven by Ben's take on children.

Case in points: It's baby Alex that causes the first rift between Ben and Widmore. It's Widmore's daughter, Penelope, who leads to his banishment by Ben. It's Penelope's son, Charlie, who causes Ben to pause on the dock. It's teenage Alex's death that is central to Ben's judgement and it's Alex again who gives Ben his next set of orders.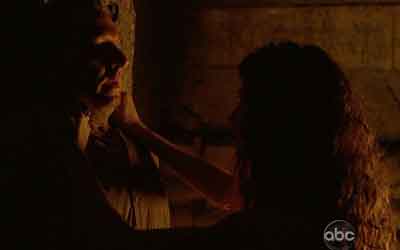 And it's those orders -- don't you kill Locke, again; obey Locke -- that has me wondering: Will Ben abide by them?

Speaking of Ben's judgment, let's talk about the Monster. Ben summoned the Monster, apparently, by pulling a drain in the catacombs below his Dharma house. However, the Monster did not appear in the style we're accustomed to. Remember the last time we saw the Monster in action in Dharmaville? The mercenaries got knocked the bleep up.

After summoning the Monster, Ben, Locke and Sun head over to the temple. Rather, the temple's outer wall. What's the outer wall for?

"To keep people like you out," said Ben to Locke and Sun.

But instead of going to the temple, which is about a half mile inside the walls, Locke leads Ben underneath the temple. It's there Ben falls through the floor and next to some grates. Out of the grates comes the Monster. It engulfs Ben, replays some of his greatest hits (all involving Alex) and apparently judges him before receding back into the grates. A relieved Ben is then approached by Alex (looking very Temptation Island -ish) who pins Ben against the wall and issues her pro-Locke orders.

What to make of this? Here's my theory on this sequence. The Monster is a 2001 -esque Monolith. Just like how the Monolith equipped apes with fire and humans with the ability to become star children, the Monster creates change in those who seek it. It doesn't judge, rather, it morphs those who seek it. Just like the Frenchmen who encountered it inside the temple were forever altered. I also believe it operates under the Eleanor Arroway Theory. As in the scene in Contact when Arroway shoots off to another galaxy and encounters ... her dad. The Monster communicates by taking the shape of those you know. It enters the subconscious and shapes into a familiar face. In Ben's case, Alex weighed heavily on him, so hence, she became the form the Monster took.

Clearly we're not talking Occam's Razor here. So why do people die when they get hit with the Monster above the Island's surface? For the same reason some apes beat down others with sticks and bones and Hal went crazy -- keys to evolution, in the wrong hands, can have big-time negative effects on other humans.

Let's get back on track. This was a tremendous episode. Ben episodes usually are. He's such a force of change that whenever we get to fill in the blanks between his actions it's always a treat. We get to see why he was bloodied up on the Ajira flight (although we still don't know how Desmond dodged that bullet or how Ben got fished out of the marina), how he justified killing Locke (he secured the proper info and used the death as a means to getting the Oceanic 6 together), how he became Alex's daddy (stealing her from Rousseau) and how he eventually became leader of the Others (by judging Widmore's off-Island antics).

And with any Ben-isode, there's usually a big dose of Locke. And this nuevo Locke is sort of a prick. He's arrogant, which is usually the last straw before a downfall. Agree or disagree? He also seems to have been uploaded with a superior sense of Island knowledge. Is he Christian Shepherd-esque now?
And what to make of Llana and the Ajira situation? I'll leave it there to talk about last week (I was away for Passover and the Frozen Four) and feel free to speculate on tonight's episode.