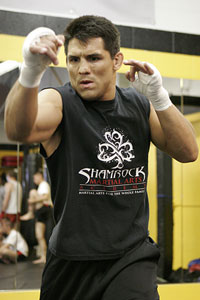 Frank Shamrock will headline the Strikeforce debut event on Showtime on April 11, fighting fellow Californian Nick Diaz in San Jose, Calif.

The main event bout was announced during a joint conference call by Strikeforce and Showtime on Tuesday.

The bout will be Shamrock's first since a March 29, 2008, TKO loss to Cung Le which cost him the Strikeforce middleweight championship. Diaz last competed on CBS EliteXC Saturday Night Fights on July 26, TKOing Thomas "Wildman" Denny in Round 2 in front of his hometown fans in Stockton, Calif.

Shamrock has recently competed as a 185-pound middleweight, while Diaz has fought at the EliteXC lightweight limit of 160. Shamrock vs. Diaz will be contested at an agreed-upon catch weight of 179 pounds.

"He's a guy who throws, and talks trash, and on April 11, I'm gonna knock him out," Shamrock said.
When asked about the often-discussed possibility of fighting his brother Ken in the future, Shamrock did not rule it out, but said that Ken is working through some personal problems right now.

"I think it's important that I kick his ass, but right now, that's on the backburner," Shamrock said.

Strikeforce acquired select assets and fighter contracts from Pro Elite last week, shortly before announcing the new television deal with Strikeforce. The deal also includes the option for CBS to run Strikeforce programming on the network.

After the final EliteXC event on CBS on Oct. 4, the hottest fight on the horizon involved female fighters Gina Carano and Cristiane "Cyborg" Santos. During the call, it was noted that Santos is available for April 11, and that they will be extending an offer to Carano to fight her on the Showtime telecast. If Carano is not available for that date, Santos may be offered a different opponent for the show.

One of the fighters believed to be on the list of acquisitions by Strikeforce is Kevin "Kimbo Slice" Ferguson, who turned heads in 2008 by headlining numerous EliteXC shows despite being a rookie in MMA. Showtime senior vice president and general manager of sports and event programming Ken Hershman said the process of contacting each fighter and finalizing each deal is taking some time, but Kimbo Slice is on their wish list.

"Kimbo is one that we think we have a future with," Hershman said.

Gilbert Melendez was mentioned as an expected fighter on the April 11 show, with Jorge Gurgel and Mitsuhiro Ishida discussed as potential opponents. Benji Radach vs. Scott Smith was also confirmed for the show. Strikeforce promoter Scott Coker said middleweight champion Cung Le is available on April 11, but unable to fight due to an elbow injury.