Maybe you heard, but Roy Nelson beat Kimbo Slice on The Ultimate Fighter. It was kind of a big deal. The fight broke Spike TV ratings records, but when Kimbo gets into the cage with cameras present, that's usually what happens.
People watch. Records break. You know. That old chestnut.
But what follows every Kimbo Slice fight is an avalanche of micro-analysis from a wide swath of humanity, from journalists all the way down to the marginally interested casual TV viewer that happened to catch the fight while flipping channels. As the opinions flooded the internet over the past few days, a few things became abundantly clear:
The fight itself was a letdown.
Kimbo seems just as genuine today as he did in 2008.
Unlike in 2008, people are now willing to give Kimbo credit for that.
When he's not fighting in the main event of a non-UFC show, Kimbo Slice is suddenly way more likeable.
Perhaps the biggest turn of events: When it comes to objects of ridicule and scorn, Roy Nelson is the new Kimbo Slice.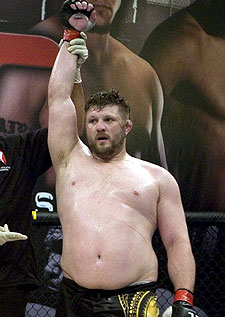 Prior to the season premiere of TUF 10, MMA fans roundly (and rightly) accepted Nelson as one of the favorites to win it all. He was a well-established, successful heavyweight outside of the UFC already. His bulk was a problem for opponents and his skill set was good enough to consider him a moderate threat from any position, standing our on the canvas. But in praising Nelson as the guy to beat -- and in the week leading up to the show, as a fighter far more impressive than Kimbo Slice -- informed MMA fans may have helped set up casual MMA watchers for disappointment.
Casual fans are notorious for not enjoying or appreciating ground fighting. When Nelson took Kimbo down, held him in a crucifix and used a series of light punches to stay active enough to win via stoppage since Kimbo couldn't move, MMA fans understood what he was doing. It was fair, it was legal, and under the circumstances, it was a great strategy. But to most of the casual fans watching on TV, it was a turn-off.
Nelson used a combination of his formidable girth and good technique to win that fight. But many of the casual fans watching didn't pick up on the technique part of it. All they saw was that bulbous belly. All they saw was a fat guy laying on top of a superstar and love-tapping him until the referee decided the fight was over. And when Kimbo got up, he didn't even look hurt.
There was technique involved, but a person new to MMA typically isn't going to pick up on that. If MMA is to convert all of those new eyeballs into full-blown MMA fans, it will not be with a fight like that, nor with a fighter like Roy Nelson.
In South Florida -- Kimbo's turf -- popular morning drive DJs Paul Castronovo and "Young" Ron Brewer, who rarely discuss the UFC, talked about the fight before it aired. The morning after, Castronovo called Nelson's win the "gayest thing I've ever seen on television." Once intrigued by Kimbo, the hosts blew him off for not being able to beat a big, fat guy who didn't appear to be hurting him at all.
Aside from their lessened opinion of Kimbo Slice (most people seem to like the guy more now in spite of the loss, and the UFC is going out of their way to build on that for obvious reasons), Paul and Ron echoed a lot the same opinions I've heard and read from new viewers that saw that fight. The majority opinion from the non-MMA crowd is "That fat guy who asked the promoter for a cheeseburger is a real MMA fighter and Kimbo Slice isn't? Check please."
That's not Roy Nelson's fault. If he went out of his way to make the fight more exciting, he would have abandoned his game plan and exposed himself to a greater chance of defeat. It's not the fault of knowledgeable MMA fans for building up Nelson as a respectable MMA fighter, because he is (doughy physique notwithstanding).
If the new viewers were turned off by Nelson, it seems as if the UFC and Spike TV turned that negative into a positive by helping Kimbo Slice repair his own image. All things considered, that was the big victory here. Win or lose, Roy Nelson was never going to be a breakout superstar. The money -- and the potential new fans -- always rested with Kimbo, and they've done as good a job protecting that investment as possible given that the guy didn't win his first (and potentially last, but they're teasing otherwise) fight on TUF.
A year ago, longtime MMA fans hated Kimbo Slice for being a street fighter soiling the sport's reputation by waltzing right in as a main eventer on network TV. Today, the casual fans hate Roy Nelson for being a chubby guy that puts on boring fights. We know Nelson is the exception to the rule, but they don't. The trick is getting them to tune in again to find otherwise.
What's worse for the potential growth of MMA in the mainstream: An exciting one-trick pony like Kimbo, or a well-rounded fighter that bores the casual fans and doesn't look the role of a true athlete? What's more likely to turn away potential new fans?
At what point does the sport have to make concessions for the casual fans in order to grow the business, and where would you draw that line? I'm interested in your opinions, so fire away.
Follow Denny Burkholder on Twitter:
http://twitter.com/DennyBurkholder