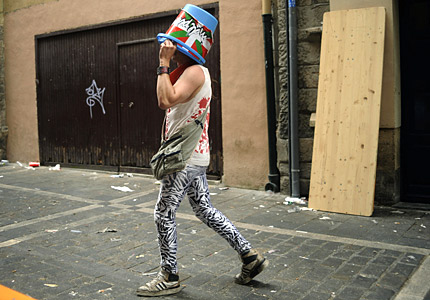 Former sportswriter a recluse years after Parrish's 'Poll Attacks'
November 15, 2011
Gil Espy, The College Basketball Enquirer

FREDONIA, AZ -- Five years ago, Chuck Kerr's life was on the upswing.

Not only was he living his dream as a sportswriter for the Fredonia Daily Examiner, he was married to his high school sweetheart, Ann, and the couple was expecting their first child, Kane, in time for Christmas.

Professionally, Kerr's career was on the upswing as well. Despite having covered the local high school sports scene in Fredonia for just two years, Kerr was informed by his bosses that he'd been selected to cover the Northern Arizona University men's basketball team for the 2006-07 college hoops season.

Perhaps the most exciting part of Kerr's new promotion, though, was the news that he had been selected that season to become a weekly voter in the Associated Press' top 25 college basketball poll.

Things couldn't have been better for Chuck Kerr.

Then came The Poll Attacks.

Gary Parrish, the opinionated, remarkably tan longtime college basketball columnist for cbssports.com, had never met Chuck Kerr. On New Year's Day 2007, however, Parrish's weekly column, The Poll Attacks, changed Kerr's life forever.

"My son was just a few weeks old, and I wasn't getting hardly any sleep," said Kerr, whose son Kane had been born on December 11th, "but it was Sunday night on New Year's Eve, and I had to get my poll turned in."

Although Texas Tech had lost at home to UNLV earlier in the week, Kerr nevertheless ranked Bobby Knight's Red Raiders #9 in his weekly AP poll. The following day, Parrish pounced.

"I made an honest mistake. I meant to rank Texas A&M ninth instead of Texas Tech," said Kerr, "That jerk Parrish ripped me though. He referred to me in his column as 'that dumb mother Chuck Kerr.'"

According to Kerr, however, things quickly went from bad to worse.

"Parrish's article got me a lot of notoriety back home," said Kerr. "At the next Northern Arizona home game, the student section, the Lumberjackoffs, stood up the whole game and chanted at me 'dumb mother Chuck Kerr (clap, clap, clap-clap-clap), dumb mother Chuck Kerr (clap, clap, clap-clap-clap).'"

"It was the most humiliating night of my life."

In the years since Parrish's attack on his poll, much has changed in Kerr's life. He has long since given up writing, choosing instead to breed rabbits for meat. In early 2009, Kerr's wife filed for divorce, citing her husband's descent into reclusiveness as the primary reason.

Though he doesn't blame his wife for leaving him, there is one person who Kerr does blame.

"If it wasn't for Gary Parrish, I'd still be writing," said Kerr. "If it wasn't for Gary Parrish, I'd still be married. If it wasn't for Gary Parrish, I wouldn't walk around Fredonia with a bucket over my head."

"I blame Gary Parrish for everything!"

Parrish, whose The Poll Attacks column remains among his most popular, was in a tanning bed and thus was unavailable for comment.