Despite a recent slew of injuries, the Twins play .500 ball on the road.

By: Christopher Torola

The Twins just completed a ten game road trip, and came away with as many wins as losses. Not bad considering that Nick Punto spent most of that time on the DL, and during the trip the Twins lost at least some playing time from Michael Cuddyer (finger), Denard Span (dizziness), and Joe Crede (back). If the Twins can win games with only eighty percent of the best players on the field, they should be able to play even better once back at full strength. All that being said, the rest of the American League central played just as well or better over their last ten games, and the Twins are now three games out of first place.
On the road trip where the Twins played the Mariners, the Athletics, and the Cubs; the boys from Minnesota never gave up more then four runs in any of their losses. Francisco Liriano and Scott Baker each pitched two games and had quality starts on all of their outings. If they can keep that up, the Twins should quickly pick up games on the Tigers to sit atop the division. Justin Morneau has not completely broken out of his slump. The most telling stat for him on this road trip is that he struck out seven times and only walked once. As if we need a reminder how good Joe Mauer is playing, as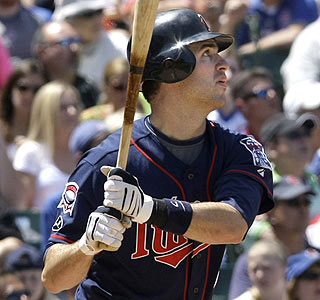 he continues to seemingly hit the ball at will his average actually dropped while getting fifteen hits in forty-two at bats. It also appears that Twin's outfielders Delmon Young (ten hits) and Carlos Gomez (six hit in the seven games he got at-bats) are starting to play their way back to respectability.
The rest of the month is spent in inter-league play (and two games at Kansas City). The Twins will host the Pirates and the Astros this week. Both teams have been playing well their during the last 10 games, but remain tied for last place at the bottom of their division. Taking that into account as well as the fact that the Twins are five and one in the National League Central so far this year, it would seem like a perfect time to pick up some ground on the Tigers who just lost two out of three to the Pirates and are now playing the much tougher Brewers and Cardinals.
It should be an enjoyable rest of the month to watch, as inter-league play is always fun to watch, especially if your a Twins fan.