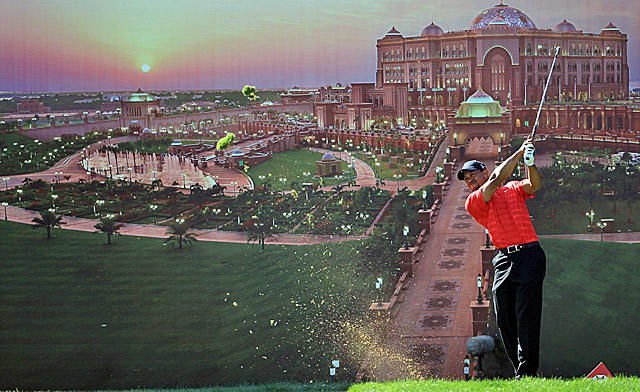 Organizers of the high-powered European Tour event in Abu Dhabi staged an interesting promotion in the third round, allowing all of the fans who wore red clothes – the primary color of the title sponsor -- into the event for free.
A day later, the most famous guy ever to don that identity-defining color didn't much show up at all.
Seeking to end a 26-month drought in official worldwide events, former world No. 1 Tiger Woods struggled just to stay in the mix and blew a share of the 54-hole lead for the ninth time in 61 tries.
After playing as well as he had since his last victory in 2009 for most of the week, Woods spent most of the day in Abu Dhabi scrambling to keep pace of journeyman pro Robert Rock, who won by a stroke over Rory McIlroy and two over Woods, recording only his second European Tour victory.
The remarkably unflappable Rock, playing alongside Woods and under an extreme microscope, put together a three-stroke lead at one point and never caved when under duress, though Woods and other pursuers, including fellow major winners McIlroy, Paul Lawrie and Graeme McDowell kept up the chase.
"Early on, I was very, very nervous," Rock conceded.

For Woods, it wasn't just another high-profile opportunity missed -- there were plenty of fairways and greens he failed to find, as well. Before this week, Rock was best-known for the bushy head of hair, which he doesn't cover with a hat. But it was Woods who kept finding the shaggiest portions of the course Sunday.

Nine years ago, Rock was an unknown British club pro, so it's a safe bet that while stocking shelves, he folded a few Tiger swoosh shirts in his day. Sunday, Woods folded himself.
"I was right there with a chance to win the golf tournament -- didn't do it," Woods said. "I felt I was just a touch off."

Entering the final round tied with Rock for the lead, Woods had found an impressive 46 of 54 greens and missed several others by a matter of feet, but that unerring accuracy was nowhere to be found Sunday. After making birdies on the second and third holes, he made back-to-back bogeys and it was uphill the rest of the way.
After weeks of showing progress in his game, Woods finished with a 72 and looked as mortal as he had at any point over the past few months. He found an abysmal two of 14 fairways and six of 18 greens in regulation, making for a day of gouging, hacking and scrambling to keep pace with the comparatively solid Rock. He didn't have a birdie on the back nine.
All but made of Teflon at the peak of his Sunday powers, Woods has now lost the 54-hole lead in three of his past five opportunities, a figure that includes his unofficial Chevron World Challenge defeat at the hands of Graeme McDowell in late 2010.
How improbable was the victory by Rock, an Englishman ranked No. 117 in the world? Woods entered the week having won 52 of 60 global events in which he held at least a share of the 54-hole lead.
Woods hadn't won on the PGA or European tours since Sept. 13, 2009, though he won the Australian Masters 26 months ago.
Maybe it's something in the water, except that there isn't any. Woods also blew a 54-hole lead in the sand-strewn United Arab Emirates in 2001, when he lost the lead to Thomas Bjorn in Dubai.
Rock made a tactical and physical mess with a bogey of the par-5 18th, but by then, Woods was three back and had missed yet another fairway, hitting a big hook off the final tee when an eagle might have given him a chance at a playoff.
About the only positive for the day for Woods was his putter -- perhaps the last piece to his comeback puzzle -- which was all that kept him in the hunt given the shocking number of greens he missed.
It was as though Rock and Woods changed personas on Sunday. With his lead cut to a shot over Woods, McIlroy and Lawrie, he birdied the 14th, the most difficult hole of the day, and added another on the 16th to claim a three-stroke lead.
Woods was the only player in the final top five who did not break par in the final round.
Where does it leave the once-impenetrable world No. 1?
It was probably akin to two steps forward, one step back. The defeat marked the second time he's been taken down in head-to-head battle by a relative unknown, as Rock joined Y.E. Yang in the upset category.
In one regard, that he was able to compete well into the final round on a course with narrow driving corridors and high rough was a positive. After a sloppy first round, Woods' putting was solid and then some, seemingly a harbinger of better days ahead.
But Rock, a former English club pro, gave even more hope to another legion of unheralded players seeking to put a dent in what's left of Woods' aura.
Woods' next start will be his U.S. opener in two weeks at Pebble Beach.

"I'm pleased with my progress," said Woods, who has finished in the top three of his past three starts that awarded world-ranking points. "I just need to keep building and get more consistent."

Rock joined Bjorn, Yang, Phil Mickelson, Lee Westwood, Retief Goosen, Padraig Harrington, Graeme McDowell and Ed Fiori on the list of players who beat Woods on Sunday when he held at least a share of the 54-hole lead.