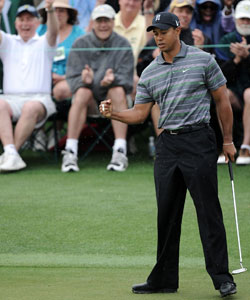 Tiger Woods pumps his fist at the 2010 Masters. (Getty Images)
By Shane Bacon

I just spent the last three weeks of my life on the road with a bunch of women golfers, some you may have heard of, so you may not have, caddying for a friend in the hopes that a story would come from it. I was at the Gold Coast of Australia, the "Jersey Shore" of the Southern Hemisphere, Melbourne, a beautiful, expensive place that made me feel like Canucks fans might spill out of the bars, and Christchurch, New Zealand, a place once so beautiful that has been so devastated by earthquakes that you drive around downtown with your jaw agape, wondering why we silly Americans didn't know more about it.
And between pints and bags and birdies and bogeys, a story did come from it, which parallels with my new move over here to CBS.
Yes, I will now be with you full-time for the foreseeable future, bringing you golf news and stories and reviews and (occasional) jokes that hopefully make you enjoy the site enough to return. That's the thing I understood during the second round of my final leg of this looping session. The relationship between player and caddie is very similar to the relationship between writer and reader.
There are things about caddying that make you appreciate things. It makes you appreciate trust. Makes you appreciate honesty. Friendship. Strangely, for me, it makes me appreciate my dad. The man has carried my bag plenty of times, and now I understand how much he must have hidden how painful it was during the days I didn't play well, not for him, but for me. The flat looks weren't because he was disappointed in me, it was because he felt for me. He wanted me to play better for me, not for him. It's why I texted him the afternoon after Irene had her worst round of the trip. I appreciate what my dad did all those times when the bag was a little more heavy than it should have been. He wasn't just carrying the clubs. He was carrying me along with it.
My goal here is going to be very similar to what I've been dealing with the last 24 days. I'm going to try to keep you entertained. Try to keep your mind off the rest of your real life. Bring you some insight and knowledge, and maybe, just maybe, it will make your day, just like a golf round, a little better. I might not be able to carry you the same way my dad graciously did during junior golf rounds that had a few too many squares, but I sure will try.
No, we aren't going to split the atom on the Eye of Golf blog. Honestly, we are writing about a game that we all love one minute and hate the next. We will probably write a little too much about Tiger Woods (I apologize now), not enough about people like Yani Tseng and Cristie Kerr (but my goal is to change that) and there will be things you love and hate. C'est la vie, right?
But by the end of the day, like that golf round that just isn't going smoothly, I hope things will always end on a high note.
I'm excited about the move. I'm excited about some of the features we have. I'm excited about the interviews we have coming up and the reviews we will bring you. But the thing I'm most excited about is you guys. You're the people that give me a job. You're the readers we are trying to impress. And that's why I want an open communication. I won't beg you to follow me on Twitter (enough people do that already), but if you need something, you know where to find me. Let me know what you like and don't like. Think there is a gapping hole in all this golf coverage that you think we could fill? All our Internet ears are open.
The golf journalism community is a close one. I have been friends with Ryan Ballengee since before he started killing it at NBC and The Golf Channel. Jay Busbee gave me an opportunity that I never thought I'd have, and will continue to be a dear friend for years to come. Along with that I've got to meet some incredible voices, from the up and coming Jonathan Wall to the late Vince Spence. We are all trying to do this thing together, and I'm sure we will continue to make this place a must-bookmark if you're a golfer with an iPhone.
So tee it up! Club right, and all those other terrible golf cliches. The round will be a fun one, just as long as you don't mind my occasional miss-clubbings.

For more golf news, rumors and analysis, follow Shane Bacon and Steve Elling on Twitter.