By Steve Elling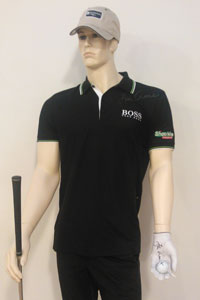 Obviously, they haven't seen the funny workout video.
Otherwise, the would-be thieves might have known that in the grand scheme of mean, Ben Crane is about as daunting as Mickey Mouse.
The PGA Tour veteran and part-time Internet entertainer has an endorsement deal with ShowMeGolfers, a company with offices in Denmark. Late Friday night, thieves smashed a window at the buildings, where a mannequin dressed at Crane adorns a window.
Apparently spooked after believing the dummy was a real person -- it was holding a real golf club -- the thieves entered the building, but were scared off and bailed without swiping anything.
That's just the beginning. When police officers responded, they thought the Crane mannequin was the robber -- his acting in his wevbsite videos is rather wooden in spots -- so they drew their guns on it and asked the mannequin to drop the weapon.

Cracked Crane on his Twitter account: "It's just nice that people are finally taking me seriously."

ShowMeGolfers is a new golf application which mixes GPS with a shot tracker and shows it all in real time on the web, so friends can follow you on the golf course.