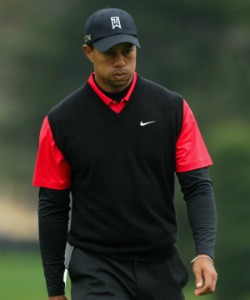 Tiger Woods sighs after missing a putt at Pebble Beach. (Getty Images)
By Shane Bacon

There are a few rules in sports trash talking that everyone should know. Don't predict a big victory unless your name is Joe. Don't say anything you don't have to say if you're a superstar, just go do it.

And don't push Tiger Woods' buttons the week of a match-play event.
Stephen Ames knows this. Back in 2006 at at this same event, a smile crept across his face when he mentioned, "Anything can happen when [Tiger's] hitting the golf ball." Woods went on to beat the man 9 & 8, the biggest defeat in the history of the tournament.
This week, Tiger is no No. 1 seed, but he is still playing a rather unknown in Gonzalo Fernandez-Castano, who broke our third rule of trash talking already.
When asked about his first-round match this week with Tiger, Fernandez-Castano said he thinks he could take him.
"I think he's beatable," Fernandez-Castano said. "Of course, I need to play good. That's all I can think about and that's all I'm going to try on Wednesday, just try playing my best game and hope that he doesn't play his best."
Now, it isn't the smartest thing to get Tiger riled up at his best format. Sure, Woods isn't the same golfer as he was when he treated Ames like a pro-am partner, but I think match play is something that could really work for Tiger. It allows him to have a loose hole or two, and he could still make a bunch of birdies and advance far in this tournament.
That said, would anyone be totally surprised if this Spaniard, who has never finished in the top-30 of a major, beat him? Is that something that would floor the golf community? I say no.

Tiger's golf game is unpredictable, and if anything, those words Ames spoke six years ago ring true even more today. Anything could happen when Tiger is swinging the club, good or bad.
At this event, it's more about the actions of Woods than the words of his opponent.

For more golf news, rumors and analysis, follow Shane Bacon and Eye On Golf on twitter.