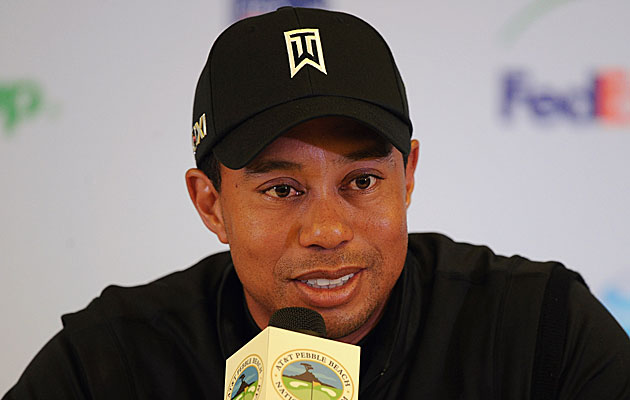 Tiger Woods talks to the media. (Getty Images)

By Steve Elling
MARANA, Ariz. -- It hasn't taken long for golf's admittedly rather polite version of trash talking to commence at Ritz-Carlton Golf Club, site of the 2012 Accenture Match Play event.
Either way, because it relates to former world No.1 Tiger Woods, people have taken notice.
First it was the Wednesday opponent of Woods,
speaking about the former champion
, admitting, "I think [Tiger'] beatable." It didn't take long for Woods to respond to Gonzalo Fernandez-Castano's comments about his golf game, giving the five-time European Tour winner a taste of his own medicine.
Smirked Woods on Tuesday, relating to the remarks of the guy nicknamed Gonzo: "I feel exactly the same way he does. I think he's beatable."
Woods said there was a day when smack lit a fire under his posterior. That's not so much the case anymore. After all, given what has transpired the past two years, he's doubtlessdly got a thicker skin. He even self-edited a comment when he compared opinions to a certain anatomical area.
"As I've matured and gone beyond that, it's just an opinion, it's their own opinion," he said. "Everyone has a (pause) 'hole,' and it's just like that."
The self-censorship generated a pretty good laugh, since everybody got the point without the actual profanity.
"That's kind of how I look at it, it's their prerogative, it's their opinion," he said. "What matters is how I go out and play and how I'm progressing in my game. At the end of the day when I'm retired, I think I will have mastered a pretty good record."
Woods is a three-time event champion, also a former runner-up, and has a 32-8 mark in the Accenture, far and away the most wins of anybody in tournament history. In 11 tries, only twice has Woods been upset in the first round.
Woods is seeded fifth in his bracket and the Spaniard is seeded 12th.
For more golf news, rumors and analysis, follow Steve Elling and Eye On Golf on Twitter.