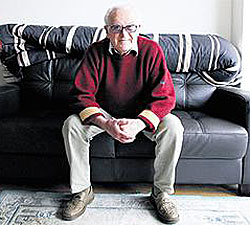 Thomas Talbot is suing Hermitage Golf Club for lowering his handicap. (Irish Independent News)
By Shane Bacon

There are only two ways to live with a golf handicap; always wanting to work on your game, redefine the things that aren't that good, and lower that number each year. Or you can just enjoy ballooning that number so it's easier to gamble against your friends, always claiming you're a 15 when really you're a solid 12.4.
The latter is a 75-year-old man in Ireland who is so mad about his handicap going down that he is suing his home club for 10 million euros for lowing his handicap.
According to the Irish Independent, Thomas Talbot is stating damage to his reputation for the club lowering his handicap 7.7 shots from 1999 - 2004.
Yes, the man is so mad that his handicap went down that he is suing his former course, Hermitage Golf Club, and the handicap secretary.
Now I know that sports are serious business. I know that competition is a big thing and wanting to win in a passion that some have and some don't. But going eight figures on a place that felt that lowering your handicap was the right thing to do because of your talents? Wow.
I have read and seen a ton of crazy golf stories over my life. People getting in fights on courses. Robbery. Drunk driving a cart home. But this one might take the cake.
I feel for the man because he obviously feels like this is something he's so passionate about he wants to take it to court, but maybe, just maybe, post a couple of high rounds and call it a day.
That's what what everyone else in this world does when they're sick of a low handicap.
For more golf news, rumors and analysis, follow Shane Bacon and Eye On Golf on Twitter.