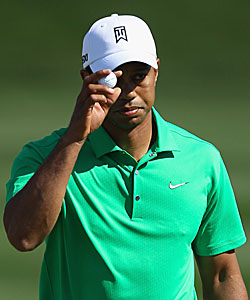 Tiger Woods survived a tough first round match at the Accenture. (Getty)
By Shane Bacon

If you ever wanted a view of where Tiger Woods' golf game has been the last two and a half years, you needed to spend a few hours watching his first round match at the Accenture Match Play on Wednesday.
Luck had always been on Tiger's side for so many years, but the first hole showed that wasn't really the case anymore. His opponent, Gonzalo Fernandez-Castano, a man that said Tiger was beatable before the match began, had a short birdie putt on the first hole that went on a victory lap before falling in to put the rather unknown 1-up. Tiger lost the next hole as well, and while he steadied the ship, and eventually won, it was anything but pretty.
Missed opportunities when it seemed like Fernandez-Castano was giving him the hole, powering birdie putts past the hole forcing him to mark and re-putt and looking fairly lost with his golf swing, the greatest thing you can say about Tiger's Wednesday is he's lucky he played a guy that didn't seem ready to slam the door on the 14-time major winner.
But, he did win, and that's what this is all about. Tiger made a mess of the 18th hole after missing a fairly routine birdie putt on the 17th hole, but a clutch par save on the last gave him the win, and he advances to the second round to play a red-hot Nick Watney.
Tiger's game plan on Wednesday seemed off. He had opportunities to play match play golf against someone that might not know exactly how to win these type of matches, but he continued to hit the hero shot and didn't seem to get away with hit. His drive on No. 2 was just the start, but a few other decisions weren't exactly right for the format.
The strangest shot might have come on the final hole, when all Tiger really needed was to find the green and force his opponent to make birdie off a slippery slope, but Woods missed it in the toughest place he could have to leave a nasty up-and-in from the greenside bunker.
He got it, gave a muted fist pump, and is on to Thursday. Was it his best stuff? No, not by a long shot. Is advancing the only thing that matters at Marana? Absolutely, and we will see another freshly pressed Nike shirt in the second round.

For more golf news, rumors and analysis, follow Shane Bacon and Eye On Golf on twitter.