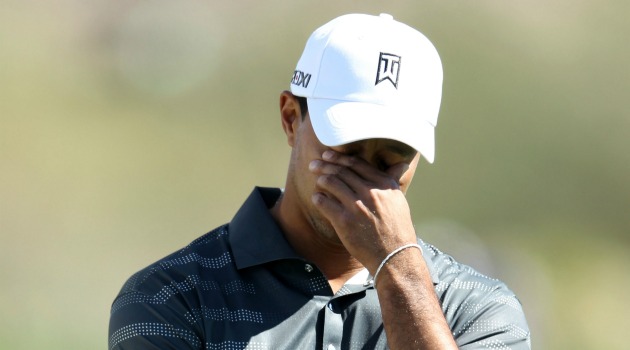 Tiger reacts after a second shot at the Accenture Match Play. (Getty Images)
By Shane Bacon

There was a stunned silence in the golf world when Tiger Woods, standing over a six-footer on the 18th hole to extend his match to extra holes against Nick Watney slide past the right lip, but it wasn't as much a shocked silence as it was understandable disappointment.
A man that used to drop just about every meaningful putt you put in front of him had once again missed a fairly simple putt in a match that was just begging for him to snag it the way Woods used to always do. Watney, for as well as he played on Thursday, was mediocre at best at the Accenture Match Play, allowing Tiger a chance to get back in the match time and time again.
And when Woods stuffed his 9-iron just below the hole on the final green, sudden death almost seemed inevitable. But a strange thing happened. I actually thought Watney had a better chance of holing his birdie chip from just on the fringe than Tiger did of his short birdie putt on greens that he's never seemed kosher with.
Tiger is out at the match play, a result most experts probably guessed would happen when they saw him matched up against the steady Watney on Thursday. Woods hit the ball loose for much of the two days he played in Marana. He powered putt after putt through the break, never seeming comfortable with either his stroke or lines.
But it goes back to the silence that fell right after his putt slide by, not even catching a lip to give the Tiger fans hope. It seemed ... likely.
Woods is obviously not the same golfer he once was, and we all need to understand that. He was great at one point and now he's another guy on tour with a staff bag and great golf swing. He plays well some days and bad others. He hits magnificent golf shots at times and follows it up with a poor putt. These are only shocking because he once was so great and now is so average.
It was just that this match seemed strange because it was so predictable. Tiger playing a guy that he should lose to, losing to him, and doing it in a fashion that never seemed to be the Woods way.
Woods has had some great moments this year, both at the start of Abu Dhabi and Pebble Beach. He has failed to close either of those events out for one reason or the other, much like any other professional golfer does at times when the trophy doesn't end up in their outgoing luggage. And when the putt slipped by the hole at a match play event in the early part of the 2012 PGA Tour season, things seemed eerily normal. For the first time in the history of the Tiger era, a missed putt on his behalf seemed like the only logical conclusion.
This game is a testy witch at times. Tiger feels that now as much as ever.
For more golf news, rumors and analysis, follow Shane Bacon and Eye On Golf on Twitter.