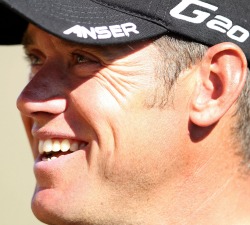 Lee Westwood smiles on his way to a second round win. (Getty Images)
By Shane Bacon

One of the best things Twitter has shown us over the last two or three years is just how much fun a lot of the European PGA Tour players have. They poke fun at just about anyone (themselves included), and will jump on people way earlier than even critics would.
One of the best at this? Lee Westwood, who has played some of the best golf of his career the last two years but is still haunted by an inability to claim that first major championship. Westwood is playing at the Accenture this week, an event he has never found himself out of the first round until his win on Wednesday, and while still alive heading into Friday, gave the world the golf quote of 2012 so far.
Westwood had a horse racing in Dubai, and when asked how it finished, dropped this gem.
Via the AP ...
"I had a horse running in Dubai about an hour before I teed off," Westwood said. "Rerouted. It's a good horse, just doesn't win. At least it came in second, which I can sympathize with to a certain extent."
That's good stuff, Lee. Westwood takes on Nick Watney this Friday at the match play.

For more golf news, rumors and analysis, follow Shane Bacon and Eye On Golf on Twitter.