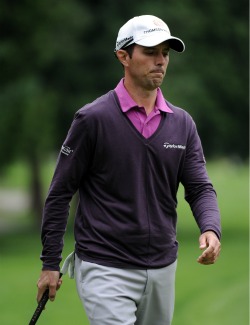 Mike Weir didn't have a great week in Mexico. (Getty Images)
By Shane Bacon

If you've ever traveled out of the country, you know the checklist; passport, wallet, passport, passport. It's the only thing you are continuously stressed out about. But what if you didn't have a passport to begin with?
That's the problem that doomed Mike Weir's chances this week at the Mayakoba Golf Classic. Weir was waiting on a passport to be sent to his house, but UPS lost it, and he didn't get it until 2 P.M. on Wednesday.
The tournament started on Thursday, so the former Masters champion rushed to Cancun, but without a practice round or basically any preparation (or most of all, peace of mind) he shot an opening round 79 and is very much going to the miss the cut as he currently struggles through his Friday round.
Sure, only some of the blame could be put on UPS since it hasn't seemed Weir has had much of a golf game the last couple of years, but talk about a stressful few days just waiting for something that allowed you access to a practice round.
The good news for Weir? No PGA Tour tournaments out of the states until the British.

h/t Ballengee

For more golf news, rumors and analysis, follow Shane Bacon and Eye On Golf on Twitter.