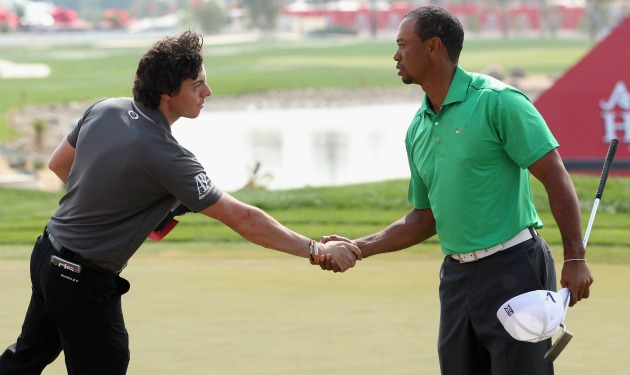 Tiger and Rory shake hands at the Abu Dhabi event. (Getty Images)

By Shane Bacon
The thing about sports betting is that you're almost always going to lose (thanks a lot, Eli Manning), but it definitely makes sports more interesting to watch. And another thing about sports betting is that the people in Las Vegas know more about the sport than you do, and they know more about how your mind works than you do. Case and point? Tiger Woods continues to be the favorite at golf tournaments. The reason is because people are always going to put money down on Tiger because he's a name they remember and he's a guy they like to root for.
So it's interesting when you check out the Honda Classic odds (and Masters odds, for that matter) and see Rory McIlroy favored ahead of Tiger to win this week.
These are the numbers in Vegas:
ODDS TO WIN:
RORY McILROY - 8/1
TIGER WOODS - 10/1
LEE WESTWOOD - 10/1
CHARL SCHWARTZEL - 25/1
KEEGAN BRADLEY - 25/1
KYLE STANLEY - 25/1
BEN CRANE - 25/1
Sure, looking at the lines in sports don't really mean anything, because it's more about the casinos winning money than putting the right person at the top, but it definitely reiterates our point
that McIlroy might slowly be taking over
as the main attraction in golf if Vegas thinks people would want to put money on him just as much as they would on Tiger.
If nothing else it just defines my point about betting on golf; it's stupid and you should never do it.
Check out the new Eye on Golf Facebook page!