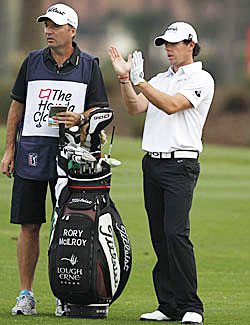 Rory McIlroy talks with his caddy J.P. Fitzgerald while shooting a 66 on Thursday at the Honda Open. (Associated Press)
By Shane Bacon

PALM BEACH GARDENS, Fla -- On Wednesday night, I was lucky enough to spend a few minutes with Rory McIlroy. It was part of Oakley's entire week here, and they set it up so that a lot of their players could spend some times with lowly journalists like myself.
And above all else, the thing I took away from McIlroy was at just 22, the kid is a superstar in every sense of the word. As he was leaving dinner, the thing I kept thinking to myself was, "he's going to win this week. I know it." And after the first round of the Honda Classic, the prediction might not be far off.
McIlroy shot an opening round 66 at PGA National, dropping just one shot and taming the always brutal Bear Trap along the way. He did it in the precise way that we used to a see a certain someone that is also in the field this week work. Rory picked his spots, made his birdies, and took his chances when they needed to be taken.
People nitpick on Rory about his inability to close, like at the Masters a year ago and the Accenture just last week. Critics easily forget his work at Congressional, but above that, just look at the way he's played the last two months. Second at the match play, fifth at Dubai, another second place finish at Abu Dhabi and a win in December in Hong Kong.
His play of late has been scary consistent, much like his golf swing, and if he continues to put himself in a position to win, like he has this week after the Honda, the wins are going to start pouring in.
This week has been about Tiger Woods. The press conference. His debut at this event. The fact that Tiger is playing two weeks in a row. But the real story should be McIlroy. The golf world has been looking for someone to start dominating again after a two year hiatus from such a figure, and if we'd all start opening our eyes, we'd see that someone is a curly haired kid with growing biceps and an incredible resume the last few months.
Rory needs to win here, but more than that, we all need to just realizing what we have right in front of us.

Check out the new Eye on Golf Facebook page and follow Shane Bacon and Eye On Golf on Twitter.