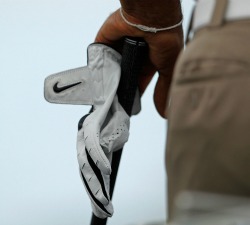 Tiger holds onto his Nike golf glove during first round play. (Getty Images)
By Shane Bacon

PALM BEACH GARDENS, Fla. -- On Thursday at the Honda Classic, the afternoon buzz was astir because a certain someone was playing in the event for the first time. A fan remarked to his buddy, "It seems like there are a lot more people here than last year," something that was obvious when the tournament sold 30,000 tickets overnight the day Tiger Woods announced he would be in the field.
Parents and kids made shirts. A fan next to me erupted in approval and sprinted to the 11th tee after Tiger stuffed his second shot to just a couple of feet for his third birdie of the day.
And amongst all the buzz, there was a guy that played a very vanilla round of golf on a tough track. Tiger, playing in the windier afternoon, posted a 1-over 71, with the best thing being that it could have been worse.
Yes, Tiger still missed short putts and seemed downright puzzled when shots would come up short or fly long, but for the most part, he played the golf course average at best, and the best news is he isn't completely out of the tournament (Davis Love III, for all his great play on Thursday, isn't exactly expected to post a similar low round on Friday).
Woods' golf game is simply Woods' golf game right now. He hits some good shots and some bad ones. He makes the occasional birdie and drops back with the occasional bogey. All too often he has 30 feet on holes that it seemed he might hit it close, and the putts that almost always dropped in the past are almost expected to miss (And do) these days.
The problem with explaining Tiger's rounds these days is that there aren't a ton of things to expound upon. He is tied for 68th right now and might move up a few spots one way or the other on Friday, but it just doesn't seem he has a really low round in him right now.
That might change, but it doesn't look like Woods has found the magic elixir he so desperately needs just yet, and it could be a while before he uncovers it.
Check out the new Eye on Golf Facebook page and follow Shane Bacon and Eye On Golf on Twitter.