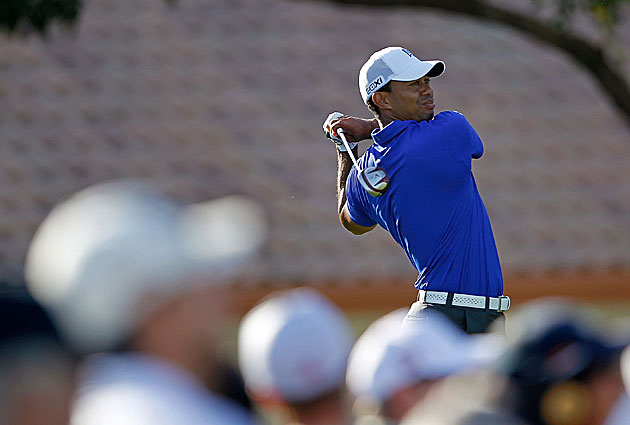 Tiger Woods tees off at the Honda Classic on Friday. (Getty)
By Steve Elling
PALM BEACH GARDENS, Fla. -- Tiger Woods took some time to meet his new neighbors on Friday morning.
Maybe a few too many at once.
After starting the second round of the Honda Classic a bit too close to the projected cutline, Woods birdied the last two holes for a 2-under 68 and survived to play the weekend at his new hometown event.
Thanks to the help of some friends.
Playing for the first time in the tournament since relocating to the area, Woods has drawn the area's biggest throngs since host Jackie Gleason and Jack Nicklaus were wowing 'em at Inverrary. They used to call Gleason the Great One, sort of like with Woods himself.
Well, on Friday, Woods definitely kept 'em entertained, particularly on the back nine, when he was repeatedly getting up close and personal with the Palm Beach denizens and snowbirds. Slogging along and doing next to nothing at a snooze-inducing even-par overall, Woods pulled out his new 2-iron and tried to carve one into the fairway from the fourth tee, his 13th of the day.
Instead, he fanned it into the gallery, where it hit Brad Merriman of West Palm Beach directly on top of the noggin on the fly, leaving a small welt. Merriman, apparently a pretty tough guy, never went down, and the ball actually caromed another 30 yards toward the green, as though it had landed on a cart path.
"You should have heard the sound," said a man standing next to Merriman along the ropes.
Sorta like a coconut falling out of a tree? Woods autographed a glove and slipped it to Merriman, then laced a shot from the rough to within 6 feet for birdie. But the wild stretch was just getting started.
Instead of using the positive bounce as a springboard, Woods yanked his next shot on the par-3 fifth into the water and made a double bogey, then shoved his tee shot on the sixth into the trees, not far from where his mother, Tida, was stationed with his youngest child, Charlie, who was attending his first tournament.
Well, peeking out from under a Pebble Beach, the kid got to see his old man hard at work, for sure.
Woods got up and down to save par at No. 6 as a man fainted along the gallery ropes, perhaps 30 feet away, sending security scrambling for a few anxious moments. Right about then, coincidentally or not, Woods finally seemed to get his swing grooved.
"After that tee shot on 6, I was wondering, 'Why was I doing what I was doing?'" he said. "Unfortunately, it took me about 14 warm-up holes to figure it out and then I got it going at the end."
Woods, who had another middling day on the greens, three-jacking from the fringe on the third hole for a par, wrestled in birdies from 6 and 11 feet on the last two holes to establish some momentum heading to the weekend.
Well, maybe. He was seven shots off the lead as the leaders played their second rounds Friday afternoon.
"It was a grind," he said. "I didn't really have it today, but I scored. That's something I can take out of the round. I know I putted a lot better today. Finally got putts to the hole, and that was kind of the goal today was not to leave one putt short.
"I wasn't quite successful at it, but that was certainly what I was trying to do."
As is usually the case whenever Woods plays someplace where fans have never before seen him live, he's been cheered at every turn by his new neighbors.
"I mean, this is incredible to play in front of my new hometown," he said. "The people have been absolutely fantastic, so supportive, and really nice, positive things out there."

Check out the new Eye on Golf Facebook page and follow Steve Elling and Eye On Golf on Twitter.