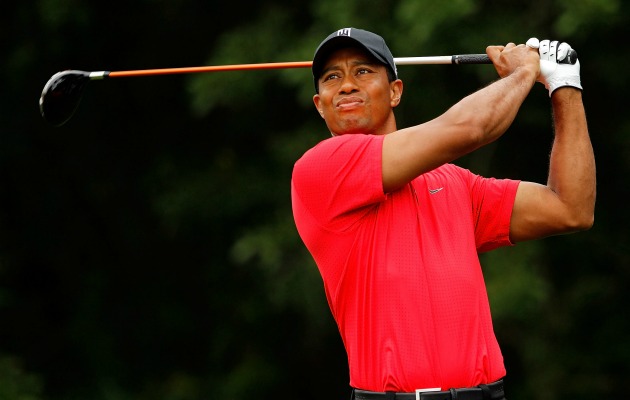 Tiger Woods swings in the final round of the Honda Classic. (Getty Images)
By Shane Bacon

There is golf, and then there is golf that involves Tiger Woods. On Sunday at the Honda Classic, it seemed we'd get the first one, a big golf tournament with a super talented field and the guy trying to take away what is Tiger's and run with it. People were excited. The week had been great. It was Rory McIlroy's chance to shine.
But a funny thing happened internally for Tiger Woods. He decided to be competitive again. And no, I'm not suggesting that Tiger hasn't wanted to win or hasn't wanted to get better and hasn't wanted to be the golfer he once was. His closing finish on Friday showed us that he is still a fiery guy who hates losing and wants to pull off every shot possible, no matter the circumstances.
But after his remarks about McIlroy on Saturday and his Ben Crenshaw-esque reminder that "you never know" when asked about his chances on Sunday, it seemed that something was bothering Tiger and it was time to change it.
Let us be clear here; one round isn't going to remake a career. The final round 62 Tiger posted on Sunday was absolutely remarkable for a number of reasons, but it really just reminded us that Tiger Golf, the events that have him in the mix, just feel different. He's a needle-mover if there has ever been one in professional sports, and when a guy like that goes on a tear like he did at the Champions Course it forces everyone to drop what they're doing and just stare in awe. My dad called me after Tiger's putt dropped for eagle on 18, resulting in a double fist-pump by Woods that, frankly, has been missed by golf fans. My sister sent me a text message. I saw messages on Twitter from sports writers that I didn't even know could spell "golf" before Sunday.
Tiger Golf is special. It's fun. It's energizing. And to think, he did all this with the New Tiger, Mr. McIlroy, in total control of the tournament? Incredible.
A lot of things happened on Sunday that were different. Tiger started a round and finished it. He made the putts he needed to make, and they weren't just curling in putts, they were slammed in the back of the hole. He got excited. He was in the round. He was as focused as I'd seen him in ages.
No, this 62 won't mean much in a few months if he doesn't win. Rory is in charge and it will be a special moment in golf for the boy wonder to land the official ranking that we've all been unofficially giving him for a couple of years.
But the fact that it happened was as important to the game as one round could be. Tiger Woods played 18 holes like we all know he can, and it ended in (and I haven't been able to use this phrase in a long time) typical Tiger fashion.
Great stuff, Mr. Woods. Great stuff.
Check out the new Eye on Golf Facebook page and follow Shane Bacon and Eye On Golf on Twitter.