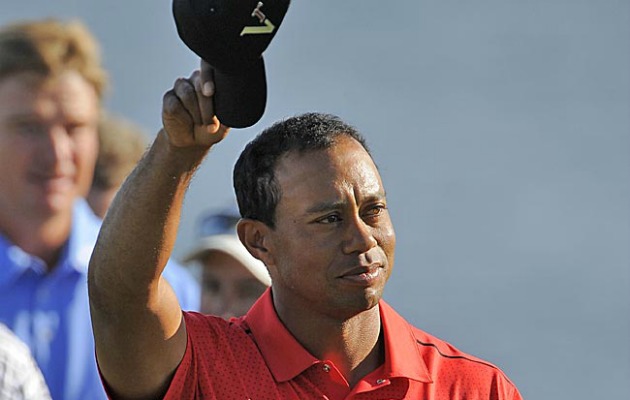 Tiger Woods tips his hat to the crowd after a final round 62. (AP)
By Steve Elling
PALM BEACH GARDENS, Fla. -- After a 30-month run of news and blues that was notable almost exclusively for the career worsts that were piling up, Tiger Woods summoned the greatest final round of his career on Sunday.
He might have been the only one who saw it coming.
Woods, after starting the day nine strokes behind 54-hole leader Rory McIlroy, mustered dome of his former firepower that fans hadn't seen since late 2009, shooting an 8-under 62 to finish in a tie for second to the Northern Irishman by two strokes at the Honda Classic.
With two eagles and four birdies, Woods actually trimmed his whopping overnight deficit to a shot as he knocked in an eight-footer for eagle on the 18th, but McIlroy never wavered, taking over the top spot as the new world No. 1.
But just as many eyes were on the former No. 1 as he looked very much like the guy in the red short that amassed 71 PGA Tour wins, including 14 majors. As the cacophony of cheers was blowing up around the back nine of PGA National, nobody could mistake what was happening.
Woods summoned the thunder and joined the back-nine mix for the first time in months at an official event, McIlroy completed his coronation, and with Phil Mickelson off to a tremendous start in 2012 as well, the plot has definitely thickened.
"Regardless of what happens today," former U.S. Open champ Graeme McDowell said as the Woods-McIlroy duel was playing out, "this golf season just got a lot more spicy."
Nobody was hotter than Woods, who finally found his putting stroke and pieced together all 14 clubs on the same day. He was within a shot of his all-time best score, 61, which he has recorded three times over the years.
Woods psyched himself up by relating the day's blustery conditions to when he played in Australia three months ago at the Presidents Cup, and scored what proved to be the winning point on the final day.
"I just kept telling myself, I played great in Australia and they are the same kind of conditions," he said. "There's no reason why I can't do it today. Took some pretty good comfort in that."
Caused some pretty good discomfort elsewhere as a result.
McIlroy didn't much notice, or really care, what Woods was doing until the latter eagled the 18th. AT that point, McIlroy faced an eight-footer on the 13th and answered, restoring a two-shot lead he would not surrender.
It's debatable whether the Woods of a few years ago would have seemed so relieved to have finished in a tie for second, but given the water under the bridge of late, it was a huge step forward. It represents his best finish in a PGA Tour event since he won the BMW Championship on Sept. 9, 2009. He shot 62 in that event, too.
"It feels good, because I felt like I was close," he said, repeating his mantra of earlier in the week. "I've been close to shooting this score, or scores like this, and it was just a matter of time before things all fell into place.
"Maybe I just needed the wind to blow or something like that today to feel comfortable with it."
He blew some brain fuses. In the toughest weather of the week, he came within one of the course record, which had been set earlier in the week. When Woods saw the winds howling in the morning, he figured a 64 would get him in the competitive picture, but then the breeze softened and he had to stomp on the gas.
"I had to change that game plan because the wind was not blowing as hard," he said, "and I knew the guys were not going to back up as much."
McIlroy didn't back up at all, and while Woods has never been one for moral victories or consolation prizes, this near-miss won't hurt too badly. He will climb four spots to No. 16 in the world on Monday.
"I think I just need the time," he said. "I switched coaches and I got hurt for most of last year, and I started putting the pieces together. Overall, my finishes have been pretty good since Australia on. It was just a matter of keep building, keep sticking with it, the process is coming, I'm hitting more solid shots, I'm making more putts, my speed is getting back.
"It's just everything is coming, and I just need to keep progressing, just keep sticking with it, and it's going to turn."
If this was a glimpse of what Woods can summon on a regular basis, then the rest of 2012 ought to be positively dizzying. Knowing he needed an eagle at the last, he nuked a 325-yard drive and hoisted a 5-iron from 205 yards to within eight feet.
This after he'd canned a 25-footer on the 17th for a birdie. It was, at long last, vintage stuff.
"It's great to have Tiger Woods back playing the kind of golf we know he can play, because he's exciting for golf," McDowell said. "Let's all be honest about that. Great to have him back on the leaderboards and we all want to win majors with him in the field.
"It's exciting to be part of golf right now."