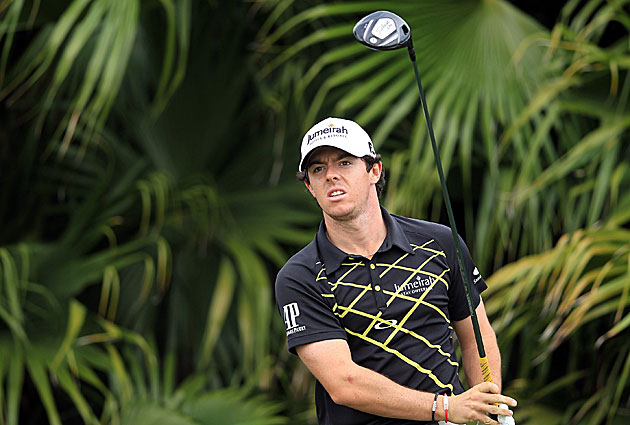 Rory McIlroy tees off during his practice round on Tuesday in Miami, Fla. (Getty)
By Steve Elling
DORAL, Fla. -- Lee Westwood ran across Luke Donald on the practice green on Tuesday, and given what they've recently had in common, the pair began a comical exchange about the state of affairs at the top of the game.
Westwood, never one to miss a chance at a good joke, turned to Donald, a fellow Englishman and said. "Good morning, No. 2."
Donald, unseated from the top spot in the world rankings on Sunday by Rory McIlroy, after Donald had had displaced Westwood from the same perch 40 weeks earlier, looked at Westwood and nodded.
"Yeah, it's sort of a bit of a relief," Donald told Westy. "There's only one way to go when you're No. 1. At least there's more than one way to go at No. 2."
At which point, Westwood's quick-quipping caddie, Billy Foster, interjected, "Yeah, No. 5."
Cool as McIlroy is playing it at the moment, it could be a long time before the 22-year-old gets displaced, regardless of the fact that Donald and Westwood can reclaim the top spot with a victory this week at the Cadillac Championship at Doral Golf Resort & Spa.
Don't much like their chances, frankly.
Fresh off a two-day trip to the Big Apple to watch his girlfriend, tennis star Caroline Wozniacki, play an exhibition at Madison Square Garden, McIlroy wheeled into Doral late Tuesday afternoon and proved fairly conclusively that he is equipped with all the tools to be the No. 1 -- including the precious gift of poise.
Even after a whirlwind 48-hour span since he became the second-youngest player to reach the top of the world ranking, McIlroy remains as collected as when Tiger Woods threw a career-best closing 62 at him Sunday at the Honda Classic.

He arrived at Doral utterly unruffled, nonplussed and rifling off all the proper missives needed. After years of enduring the rather grumpy sort who occupied the same throne for most of the past decade, in his first public appearance since climbing to No. 1, McIlroy was an impressive study in confidence, self-deprecation, charm and insightful analysis.

That's the public-relations Grand Slam, right there. We're all getting to know the Ulsterman, bit by bit, and the puzzle pieces are impressive. The Northern Irishman has always been open and honest, and he didn't waste a minute reaffirming that, to the delight of anybody who will read the comments about his career arc, Woods, or the perceived mantel of being a marked man.
For instance, McIlroy didn't at all mind admitting that having Woods throw everything he had at him at the Honda made it all the better. Well, sort of.
"To be honest, I was probably thinking to myself, 'Could it not have been anyone else?'" he said, drawing huge laughs.
He not only survived, but thrived. If it was the passing of the generational torch, Woods tried to burn down Rory's house first.
"I can sit here and lie and say that it didn't feel better to have Tiger post a score and to be able to play solid," McIlroy said of this two-stroke win. "It maybe made it feel a little sweeter than if it had of been someone else."
Cadillac Championship
More Golf coverage
Whoever wrote, "heavy lies the crown," missed the boat with this guy. McIlroy shrugged off the presumed pressure that being the top man on the totem pole carries and said it's all a matter of individual taste and style.
"It depends what type of mind you have and if you thrive in the spotlight, if you welcome it," he said. "I feel like I do thrive in the spotlight, and I like the attention. Not that I'm an attention-seeker, but you're doing something right when you're in the spotlight."
A modern kid in a highly electronic world, McIlroy is clearly wired the right way. Monday night, Wozniacki waved him onto the court at MSG and he traded a few lobbed volleys with her equally famous exhibition opponent that night, former Wimbledon winner Maria Sharapova. A shrinking violet, he isn't and McIlroy "won" the point, to the delight of the crowd.

Think about it: Everybody's different, but can you envision Woods ever putting himself in a similarly spontaneous situation before thousands of fans and a live TV audience, where he could have looked like a complete clown? Of the foursome that has occupied the No. 1 perch since Woods cavated the throne, McIlroy not only seems best-suited for the long haul, both because of his skillset and age, but the demands of celebrity,
"I'd love to keep myself here for a while," he said. "I know that it's inevitable that I'll lose [the ranking] at some point, that's for sure. I just hope that it's a little further away.
"I don't feel like I'm under any pressure to keep the No. 1, because that's not what I play golf for. It's about winning tournaments, and if I win tournaments, the ranking will take care of itself."
The shock and awe of the achievement are not likely to rattle him, given the company he keeps. He received congratulatory messages from the manager of Manchester United, Alex Ferguson, and the team's star player, Wayne Rooney. Greg Norman checked in, too, just like dozens of others.
They all have hailed the new boy king. Unlike the reign of another No. 1, who shall remain both obvious and nameless, we are not expecting an era of tyranny and oppression from McIlroy, who is anything but suspicious, paranoid or defensive. Indeed, his manner is as refreshing as the Atlantic breezes that buffet the Doral facility.
As his father, Gerry, said last year when McIlroy elected to rejoin the PGA Tour for 2012 against the counsel of his management, "He's his own man."
That's becoming evermore evident, which is remarkable given his age and fast-track climb to top billing. He isn't surrounded by an army of handlers. His swing coach is in Ireland. His caddie, J.P. Fitzgerald, eschews the limelight. Nothing seems out of proportion. It's the way McIlroy wants it.

He received mountains of unsolicited feedback after blowing the 54-hole lead at the Masters last spring at age 21, and listened to precious little of it, really.
"I mean, you take it on board; the stuff that you might not think is relevant, you just sort of let it go," he said. "Even if you pick up one or two things that some people might say, you hold on to that and maybe try to put it in practice.
"Most of the time, I try to figure things out on my own. I think that's the best way to do it."
Judging of his annihilation of the U.S. Open record book two months later, the evidence suggests he's right. The only player to reach world No. 1 quicker was Woods, who climbed the ladder at age 21. Though the comparisons seem premature, if not unfair, plenty of newshole has already been expended comparing the early trajectory of McIlroy to that of the 14-time major winner.
McIlroy handled that ticking time bomb like an adroit professional, too.
"I'm going to let other people make the comparisons," he said. "I've never said that I want to be the next anyone. I just want to be the first Rory McIlroy and however good that turns out to be, then I'll try my best to win tournaments and to win majors and to be best player in the world.
"But it's never like I set out to win 18 majors like Tiger has. I've always just wanted to win golf tournaments, ultimately to win majors, and to be No. 1 in the world. I've been lucky enough to win a major and get to the No. 1 position, but there's still a long road ahead and I feel like I can accomplish a lot more."
You'd have to be catatonic to bet against it. As none other than Jack Nicklaus pointed out, with a major already to his credit, McIlroy is a step ahead of most players. Moreover, McIlroy has already seriously contended at all four majors over his brief pro career.

"I've never let anyone tell me that I was too young to do this or too young to do that," he said. "I felt at some times last year, a lot of things happened to me so quickly in such a short space of time, and it didn't matter if I was 22 or 32.
"I feel like I've handled everything pretty well. I've definitely matured a lot and I've learned a lot in the last couple of years. So everything that's happened to me has been hugely positive and you know, it's nice to be sitting here at 22 and have the No. 1 ranking and to have won a major."

Introspective, easygoing and humble? Hold on, because this could be quite a ride.

Check out the Eye on Golf Facebook page and follow Eye On Golf on Twitter.