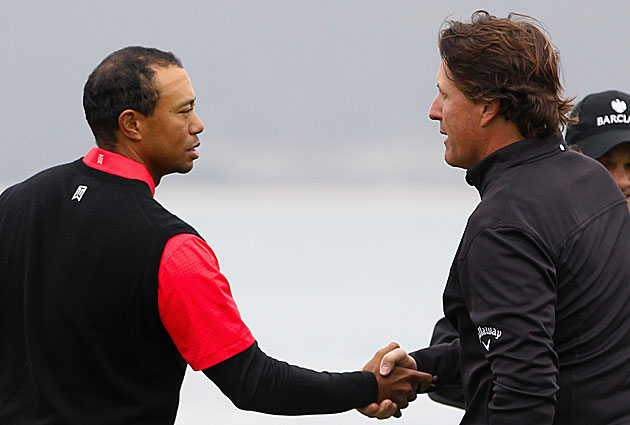 Tiger Woods and Phil Mickelson planned to play a round at Augusta earlier this week but Woods backed out at the last moment. Mickelson joked that Woods was intimidated. (Getty)
By Steve Elling

DORAL, Fla. -- Guess they'll have to settle for their battle three weeks ago at Pebble Beach.
Though it sounds hard to believe, when Phil Mickelson made his annual trip up to Augusta National earlier this week for some Masters recon, he spent his practice time solely with new running mates Dustin Johnson and Keegan Bradley.
That's because Tiger Woods was a no-show.
Mickelson said Wednesday at the Cadillac Championship that two marquee players had planned to play together, but it fell through.
"I guess it was the intimidation," Mickelson cracked.
Playing in the same group as Woods three weeks ago at the AT&T National Pro-Am at Pebble Beach, Mickelson came from six shots back in the final round, shooting 64 to win. He beat Woods by 11 strokes that day.
In fact, Mickelson was full of whistling one-liners about Woods on Wednesday. When he was asked about the 8-under 62 that Woods shot last Sunday in the final round of the Honda Classic to nearly come from behind to win, Mickelson was in prime form.
"Obviously, [Tiger] was paying attention a couple of weeks ago, which is nice to see," he said, causing laughs from many in the room.
Some in the room clearly didn't get the reference to Pebble Beach.
"At least I thought it was funny," Mickelson said, making a hand motion above his head. "Whoosh."
Publicists for both players said after Mickelson's press conference at Doral Golf Resort & Spa that they had no personal knowledge of any plans for the two to play together at Augusta National.

Check out the Eye on Golf Facebook page and follow Eye On Golf on Twitter.