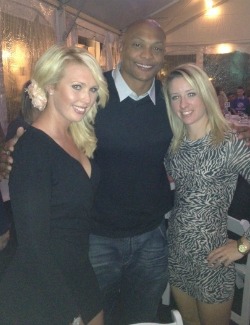 Rachel Connor (left) with Eddie George on Tuesday night. (Twitter)
By Shane Bacon
This sure is a story you don't see everyday. A little know LPGA and Futures Tour player named Rachel Connor was pulled over on Wednesday morning and arrested because of drunken driving in Florida.
According to the Sarasota Herald-Tribune
, the 21-year-old golfer was stopped at 2 a.m. and blew a .133 and .137, and while that is somewhat news because of her status as a pro golfer, maybe the most interesting thing about the story was who was in the passenger seat.
Former Tennessee Titans running back Eddie George was riding shotgun next to the England national team member. George was not detained.
The picture to your right was tweeted by Rachel earlier in the night at the Archie Griffin Celebrity Golf Classic with the caption "The Lovely Eddie George."
George, the former Heisman Trophy winner, recently published a book with his wife Tamara titled
Marriage For Real
.
h/t Game On!

Check out the
Eye on Golf Facebook page