OK, so the Bulls stunned me last night by not only beating the Spurs but by controlling the tempo of the game throughout the second half. Tim Duncan looked in prime form but the rest of the Spurs looked flat and rusty. I honestly felt like the Bulls could open the season really slow but last night gives me hope. Do I think the Bulls are contenders after knocking off a top 5 team? No. I am my own teams biggest critic in many ways and I think tonights game against the Celtics is the real test. So Bulls fans I ask that you "Hold Your Horses". There were three things I was looking for in this game before it started so did I see what I wanted to see? Let us take a look.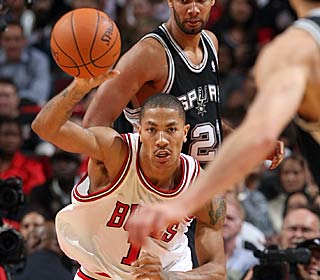 1. Can Joakim Noah defend against a bigman like Tim Duncan? While Noah is a pesk and a very good defender of the paint he is not yet near the level needed to take on the task of a great like Duncan. Only few players are of that caliber. Players like Kevin Garnett, Ben Wallace, and Dikembe Mutombo are of the few that can matchup against great players. Can Noah ever be a defender at that level? My guess is no, but he can be pretty good and should be able to slow down most players. The 10 points and 10 rebounds he gathered last night could very well be his season average by the end of the year.

2. Will Kirk Hinrich be a spark off the bench? Yes he can and I think he will see close to 30 minutes a night and that could put him in the running for 6th man award, but most likely he will average about 12 points a night with 4 assist and 3 rebounds and play some gritty defense. He is a great luxury to have coming off the bench, not only because of the things I already mentioned, but more because he is a great floor general and can control the tempo of the game. He knows when to push it and when to slow things up. I am happy the Bulls kept him.

3. Will Rose shoot or pass? The answer is both. Rose was clearly on his way to getting close to a triple double last night with 13 points, 7 assists, and 7 rebounds in 33 minutes on a sore ankle. As Bulls fans we are now going to have to worry about an injury to Rose like Miami does about Wade or the Celtics would about KG. Rose is the heart of this team and without him they are a sub .500 team. Rose should become an Allstar this season even with all the competition. He is that good in my eyes. He can drive and create like Tony Parker and can pass like Chris Paul, he just needs to become a defender like Kirk and a Leader like Billups and all things will be grand in Chicago. I do think Rose have the leadership thing down as all the Bulls players seem to clearly see that Rose is the best player on the team.

Nice Surprise. Luol Deng was a treat to my eyes last night. I am not sure he can be that 18 and 8 player every night for the Bulls but he sure looked great last night hitting a high percentage of shots and cleaning up the glass like a window washer. If we can count on Deng for 15 and 6 then the Bulls will be better served because they can go to any number of players for offense. John Salmons and Brad Miller can score as well as Thomas and Kirk. Bottomline is that the Bulls are very deep and it showed last night. Miller and Kirk are starters on most teams in the NBA and Taj Gibson looks like a steal at 26 in the Draft. he has a solid jumper from 15 but more importantly he plays defense like a savvy vet already, not to mention he can handle himself in the paint fairly well. Add to that rookie James Johnson and a shooter in Pargo and you have a very good 2 deep rotation.

The Celtics test and what I am looking for tonight. Tonight will be the real test for many reasons and the two bigget reasons have to do with composer.

Can the Bulls live up to the hype of last seasons 7 game series with the Celtics? For Celtic and Bulls fans last season 7 game first round series was perhaps the best we ever witnessed with our own eyes. I was pulling my hair out and biting my nails. I was jumping out of my seat sceaming in joy and putting my head in my hands in sadness. It was what being a fan is all about compressed into 7 games. So can the Bulls step up to the challenge of dealing with the pressure of this new found rivalry? Sure the Celtics are a contender and could very well be in the Finals this season and the Bulls will have to play perfect basketball to become a 4th seed, but still if you ask any Bulls or Celtics fan they will tell you that a Bulls/Celtics matchup is must watch TV. The Celtics will play hard and they are just as deep as the Bulls if not deeper and have plenty of leadership and Kevin Garnett will be playing this time. Maybe a healthy Deng can offset Garnett a bit, but any way you look at it the Bulls are the underdog and I wonder if they can play with heart or will they fall apart at the first signs that the Celtics could pull away. Bottomline question, will the Bulls fold if down by 7 or 8 or will they kepp fighting?

Will the Bulls be over-confident? Over-confience is poison like no other in sports. The Bulls already knew that they pushed the Celtics to 7 games on a national stage and now they are coming off a huge victory over the Spurs. Will they walk into Boston with their heads held too high? Maybe. Tyrus Thomas comes to mind. I could see him trying to force too much and get dismantled by Garnett. The key will be Rose. If Tyrus acts like a fool then Vinny can pull him and throw in Gibson or even Miller, but he can not really replace Rose and have any hopes of winning. I think we have seen enough of Rose to know that nothing seems to faze him. When he steps on the hardwood his blood turns to ice. No smiles on his face. It is all about the game.

Well I hope you enjoyed the read and as you can see I am very happy the regular season has started. Let me know your thoughts on the Spurs game and what you think will happen to the Bulls tonight Against the Celtics and the season for the matter. Thanks.