The Cleveland Browns appear hopeless. They have lost seven of their first eight games, fired their general manager during the bye week, and the injuries are stacking up like firewood. Fans are on the verge of a protest and national media types are calling for Eric Mangini's immediate resignation.
The Browns are in desperate need of a hero.
Or a heroine.
Enter Dawn Aponte, Cleveland Browns Vice President of Football Administration.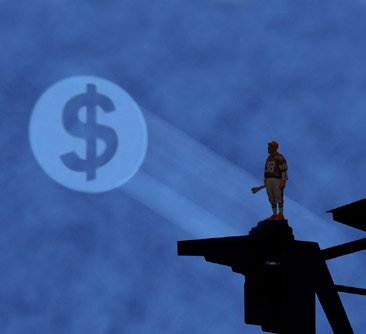 Never heard of her? You're not alone. Aponte is the woman responsible for working behind the scenes to handle the contractual affairs of the Cleveland Browns. In her current role with the team, Aponte's duties include handling player contract negotiations, player cost budgeting, league compliance, and salary cap management.
SI.com's Peter King once referred to Aponte as "Capwoman" for her extensive knowledge of the salary cap and the legal ins-and-outs of the NFL.
Aponte's responsibilities are already similar to that of a general manager. With a vacant management position and an owner desperate for change, look for Dawn Aponte to get the first shot at filling the vacant general manager position.
It would be "Capwoman" to the rescue.
During an era in professional football where the collective bargaining agreement is in shambles and an uncapped year seems more like a reality each day, who better to handle those demands than a salary cap expert?
In an interview with the Plain Dealer's Tony Grossi, camera-shy owner Randy Lerner was asked about Dawn Aponte and her future role with the organization.
"Dawn is a very talented executive and a good person," Lerner said.
"My hope is that her role and impact will grow within our organization."
A promotion of this magnitude would certainly classify as growth. Dawn Aponte is currently the vice president of football administration – a role with similar albeit different duties to that of a general manager. The learning curve may be steep, but then again the Browns have nothing to lose.
Randy Learner has always been sensitive to the public image of his Cleveland Browns. Hiring Dawn Aponte to take over as Browns' general manager would not only be a great public relations move, but it would shift focus away from the toxicity that has become associated with jobs surrounding Eric Mangini.
Aponte would become the first woman to hold the title of NFL general manager – a story which would deflect attention away from the 1-7 football team she would inherit. Aponte has had experience working with Eric Mangini in New York, and that makes her one of the few people flexible enough to step in and take over where Kokinis left off.
From an internal standpoint, this move makes perfect sense for Eric Mangini. A first-time GM means Mangini would likely retain authority on all personnel and football decisions. From an external standpoint, Randy Lerner looks good by evoking change at the outcry of the fans, all while appearing progressive enough to break down barriers which may have been in place.
It's a win-win situation.
Hiring Dawn Aponte won't solve the team's seemingly endless string of problems on the field. What it would do is equip the Browns with the personnel needed to move forward in the face of a fiscally challenging era of professional football.