Seven months after the famous toast at
Carmelo Anthony
's wedding, the second member of the
Knicks
' proposed Big Three is on his way to New York.
Just like he wanted all along.
And now that Anthony is finally a Knick, teaming with
Amar'e Stoudemire
to form one of the most lethal scoring duos in the NBA, the question of how it's going to work is as important as who's coming next.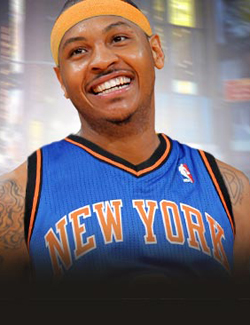 The Knicks and
Nuggets
agreed Monday night on a massive, three-team, 13-player trade sending Anthony to New York, three league sources told CBSSports.com.
The deal, approved by league officials Tuesday night, is
Wilson Chandler
,
Danilo Gallinari
,
Raymond Felton
,
Timofey Mozgov
and New York's 2014 first-round pick going to Denver for Anthony,
Chauncey Billups
,
Shelden Williams
,
Renaldo Balkman
and
Anthony Carter
. The
Timberwolves
agreed to take Eddy Curry's expiring contract along with
Anthony Randolph
from the Knicks and send
Corey Brewer
to New York -- not Denver, as was discussed in a previous version of the trade. The Wolves get $3 million from the Knicks, which will be used to buy Curry out of the few remaining pay checks on his $11.3 million contract.
The Nuggets also get Golden State's second-round picks in 2012 and '13 from New York -- an incredible haul for Denver general manager Masai Ujiri considering the superstar he was forced to trade in his first few months on the job only had one destination in mind. Denver also gets Greek center
Kosta Koufos
from Minnesota for a second-round pick, a wrinkle added during the trade call with league officials Tuesday. Mozgov and the second-round picks being added after the Knicks made what was described as their final offer Sunday further called into question whether Madison Square Garden chairman James Dolan overruled his basketball staff to close the deal.
As they said on one of the news shows Monday night in New York, "If your name is not Amar'e Stoudemire ... you've been traded!"
"They gave up their team," one rival executive said of the assets New York surrendered for Anthony, the league's sixth-leading scorer and a four-time All-Star.
Despite the assets surrendered for Anthony, the deal was another bold step for Knicks president Donnie Walsh, who needed only two years to clean up a decade-old mess at the Garden and put two of the top 10-15 players in the NBA in Knicks jerseys in a span of seven months. Though the Knicks team that emerges from this trade will have flaws, it is the most relevant -- and most dangerous -- team that has inhabited the Garden in more than a decade. The key player the Knicks would have refused to give up in the deal was
Landry Fields
, a second-round pick who has emerged as one of the top rookies in the league.
Pending the passing of physicals, Anthony and Billups will make their Knicks debuts Wednesday night against Milwaukee at the Garden.
The question becomes whether Walsh will have enough flexibility to make the third member of the Anthony wedding trinity,
Chris Paul
, appear between 31st and 33rd Streets when he is a free agent in 2012.
Deron Williams
also will be a free agent that summer, and CBSSports.com reported last week that Williams began contemplating a union with Stoudemire last summer. It isn't clear whether Stoudemire and Anthony making a combined $40 million in 2012-13 will allow space for a third max player under a new collective bargaining agreement. But once the
Lakers
,
Celtics
and
Heat
set the precedent for superstars teaming up, it can't be good for them and not good for others.
The
Nets
, whose pursuit of Anthony ended Monday night in a crushing disappointment for Russian billionaire owner Mikhail Prokhorov, could expand the deal by taking two ex-Knicks from Denver but are not fully committed to the idea, according to a person briefed on the negotiations. The Nets' involvement depends on which two of the four ex-Knicks the Nuggets want to trade. Nuggets officials have been pushing for some degree of assurance that they can flip two of the Knicks players they are getting for draft picks, which they value more.
It was presumed earlier Monday that Denver would flip Gallinari and Mozgov to New Jersey for two first-round picks, providing the final incentive for Denver to part with its franchise player. But sources indicated Monday night that the Nets may actually want Felton in that scenario, and that New Jersey prefers Felton over acquiring
Andre Miller
from Portland in one of several separate potential trades they are discussing.
Either way, Anthony finally will get his wish Tuesday -- a three-year, $65 million extension with the Knicks, the team he has pushed to be dealt to since September. CBSSports.com reported in December and again in January that Anthony, if traded, wouldn't sign an extension anywhere but with the Knicks. His persistence was tested in recent days, when Anthony agreed to meet with Prokhorov, hip-hop mogul Jay-Z and other Nets management figures during All-Star weekend in Los Angeles as a condition of getting permission to meet with the Knicks' Dolan. Anthony was careful not to give any commitment to Prokhorov, but he also didn't turn the Nets down. To ensure that the Nuggets could get a competitive offer from New York, Anthony needed to leverage the possibility of signing the extension with the Nets. So in a way, Anthony and Ujiri were working in tandem all along to get Anthony to his preferred destination in a way that satisfied both their agendas.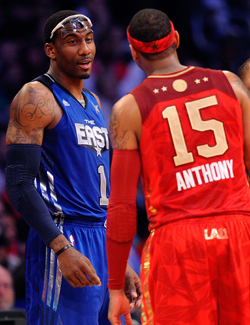 Anthony, 26, will join fellow All-Star Stoudemire, 28, to form one of the most potent offensive duos in the NBA -- and the highest-profile superstars in their prime that the team has had in the lives of most Knicks fans. But with the Knicks giving up three starters and Mozgov, a 24-year-old 7-footer, New York will have a thin bench and still won't have a defensive big man to take pressure off Stoudemire. In addition, Stoudemire and Anthony will be scheduled to make $40 million combined in 2012-13 -- perhaps hampering the Knicks' efforts to land a member of that summer's star-studded free-agent class including Paul, Williams, and
Dwight Howard
.
Meanwhile, Denver's new basketball brain trust of Ujiri and executive Josh Kroenke passed an enormous test of their will, patience and negotiating chops with flying colors. Going all the way back to September, when they refused to pull the trigger on a four-team Melo trade involving Charlotte and Utah, Ujiri and Kroenke expertly played the Knicks and Nets against each other to the tune of a potentially massive package of assets for Anthony. The strategy resulted in an out-of-control groundswell of public support in New York for the Knicks to acquire Anthony, a player some significant members of the organization were determined not to give up major assets to acquire. And in an unimaginable twist given the obstacle that Anthony only wanted to re-sign with the Knicks, the Nuggets could wind up walking away with significant assets from
both
of the teams that pursued their star player.
It is common for general managers to print money in trades through contract-swapping. The Nuggets could essentially wind up printing
draft picks
by flipping two of the Knicks' players they didn't want for assets they value more. Even if the Nuggets wind up trading none of the ex-Knicks to New Jersey, it was an extremely impressive debut in the hot seat for Ujiri, a Nigerian-born former international scout who was part of the Toronto front office that got burned by free agent
Chris Bosh
last summer.
The Knicks get older, but arguably better at the point guard position with Billups, 34, taking over for Felton, 26 -- though Billups is not a classic pick-and-roll point guard and will have trouble playing the heavy minutes Felton endured. Williams, a disciplined, 6-9 reserve, will help bolster New York's undersized front court, and the addition of Brewer to the deal gives the Knicks a much needed wing defender.
In the end, this one's all about Melo -- a sidekick for Stoudemire who will cause problems for Boston, Miami and Chicago while serving as further magnetism for future free agents.
They're still one shy of a Big Three.
For up to date news on the NBA trade deadline, follow Ken Berger on Twitter at @KBerg_CBS .
For more on the Nuggets' trade of Carmelo Anthony to the New York Knicks:
Ben Golliver breaks down the winners and losers from the trade .
Did this trade make the Knicks contenders? Royce Young has his doubts .
Carmelo Anthony: No one man should have all that power , thinks Matt Moore.