NEWARK, N.J. – Few players in the NBA have a better perspective on
Carmelo Anthony
's erstwhile flirtation with becoming a New Jersey Net than
Jason Kidd
.
Kidd, the player who revived the
Nets
franchise with back-to-back Finals appearances, was making his first appearance as an opposing player in his former team's temporary home at the Prudential Center Saturday night. Kidd, who was traded to Dallas at the February 2008 trade deadline under somewhat similar circumstances facing Anthony, said he hasn't spoken with Melo about the situation. But Kidd didn't have to; he painted a pretty thorough picture to reporters of the dilemma that Anthony was wrestling with before the proposed trade to New Jersey blew up this past week.
As to Issue No. 1, the Nets' future home in Brooklyn, Kidd provided the grim perspective that only a player could have.
"Unless it's built, you can't believe it," Kidd said. "That's the nature of the beast. You look at (Madison Square) Garden, they're redoing the Garden. So until it's built, guys can't believe it. The weather and they're saying it takes two years … well, I heard the same thing when I was here. So I don't know how long I've been gone, but you can see how long it takes things to get built. If it's not built, they're gonna be playing here."
Kidd's point is well taken, and it was a perspective that no doubt bothered Anthony as he dealt with four months of attempts by the
Nuggets
, the Nets and his representatives at Creative Artists Agency to steer him to New Jersey on the hopes of a future in his native Brooklyn. The announcement that the Nets were moving to a new arena in Brooklyn was first made in 2006, yet ground wasn't broken on the Barclays Center until last spring. Concrete was poured in June, and the steel started going up in November. As of Jan. 10, construction had reached the suite/concourse level (see photo). It is scheduled to open in time for the 2012-13 season.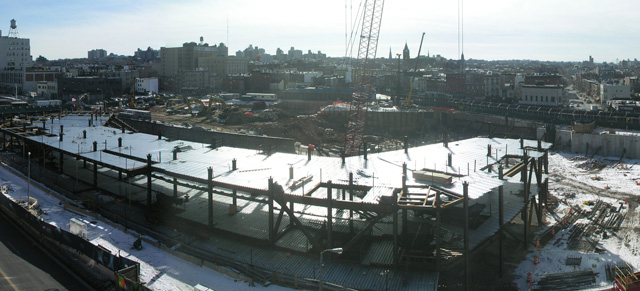 But players are realists, and believe in things they can see (like an arena) or touch (like a giant stack of money or All-Star teammates.)
"I was very fortunate," Kidd said. "When I was here, I had great teammates and a president (Rod Thorn) who knew what he was doing. So that makes your job a whole lot easier."
Kidd was asked if there's a New Jersey stigma among potential trade targets and free agents around the league. If the question were a basketball, Kidd would have dribbled it out of bounds.
"Um, I, you know, it's a, it's a great state," Kidd said. "One, Jersey's great. It's close to the city, great restaurants, great people, great fans. Unfortunately, you have the Turnpike from the airport and that's pretty much all people get to see. Well, if you're a golfer, you've got great golf courses here."
Kidd, whose Mavs are expected to at least inquire about what it would take to get Anthony on a rental deal now that the Nets are out of the picture, offered an interesting piece of advice he'd give Anthony if he were advising him. With so much talent concentrated in the Eastern Conference, why wouldn't Anthony want to stay in the West?
"If I was his advisor, I wouldn't want him to go East," Kidd said. "But if he wants to go back home to New York or if as close as he can get is Jersey, then you wish him the best. But you look at the Eastern Conference, there's some talent over on this side. Then you look at Jersey, New York or whoever gets him, because somebody's going to get him in the summer time."
That's where Kidd wound up going back to the original point, which is how similar his situation was when he got traded by the Nets three years ago. For Kidd, the resolution went all the way down to the trade deadline, and he believes Anthony's will, too.
"Whenever the trade deadline comes about and goes, that's the only way it can be solved," Kidd said. "At the end of the day, he's going to be there or he's not."