MIAMI – From the day
LeBron James
and
Dwyane Wade
became teammates, they were the focal point of a social and basketball experiment. How they would react – to the pressure, to the spotlight, to each other – would be the subject of daily curiosity.
After 82 regular season games and six playoff games – a very public journey that was launched in the seclusion of training camp on a Florida Air Force base – the questions are still coming about the on-court aspects of their relationship. In the huddle before the final possession, they were asked Tuesday in the hours before Game 2 of the Eastern Conference semifinals against the
Celtics
, who gets the last shot? Who demands the ball? Does one back off when the other has the hot hand?
But those who have followed the first steps in the
Heat
's playoff run may have noticed something else about this superstar duo that is even harder to explain. For months, LeBron and Wade have been conducting postgame interviews while seated side-by-side at a table in the interview room. There is no one-on-one time with either star, and the only opportunity to ask James a question without Wade hearing the answer came in LeBron's customary availability on game nights, about an hour before tipoff in the locker room.
Even that tradition, the last proof that James and Wade were, in fact, separate humans, was scratched off their itineraries recently. Of late, James has stopped going solo with the media before games and instead sits at the interview table next to Wade before shootaround, as he did Tuesday morning.
A few weeks ago, the two actually began the somewhat bizarre and unprecedented habit of answering questions on practice days while standing shoulder-to-shoulder on the court. It has led to some awkward camera footage -- you may have noticed Wade answering questions on TV while LeBron stands in the background, using up valuable oxygen – and has produced some awkward moments. How do you ask Wade about a last-second shot James missed when the guy who missed it is standing right next to him?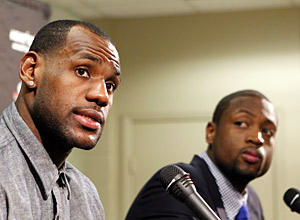 Instead of shooting from the hip, LeBron and Wade are attached there.
The Celtics' Big Three of
Kevin Garnett
,
Paul Pierce
, and
Ray Allen
started the trend of group interviews, but LeBron and Wade have taken it to a level never before seen in professional sports as far as I can tell. Their calculated decision to function as one not only on the court, but also in the court of public opinion, says so much about the relationship they have forged and the pitfalls that have always been present for two stars and friends joining forces in the prime of their careers.
"I think from Day 1, we kind of understood even from our teammates that we're going to be the two guys that everyone looked at – to see how we reacted to things, to see how we could handle the change, to see how we could handle playing with each other," Wade said Tuesday. "We realized that. And that's something that we communicated and talked about, even from the beginning, that we had to be always on the same page. If we're not on the same page, always communicating with each other and just having each other's backs, no matter if it's bad times or it's good times. We're always going to stay even-keeled, so that helps the success of our team."
Their refusal to be divided and/or conquered isn't unique. During media availability at All-Star weekend, James sat shoulder-to-shoulder with
Carmelo Anthony
and
Chris Paul
on the scorer's table and
ran interference for his friends
when difficult questions about trades or free agency came up. James even chided the media for harping on his fellow All-Stars' futures, when it was James who had escalated the trend of stars teaming up and put so much pressure on Melo and CP3 to find better teammates in the first place.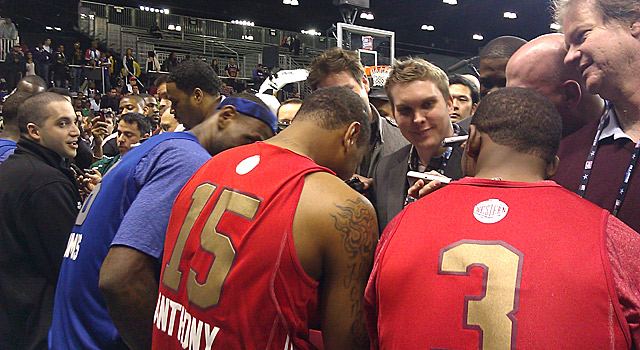 But more than camaraderie and protectiveness, the controlled way James and Wade present themselves publicly speaks to a certain level of paranoia about what outside forces would try to do to them if they were separated and forced to stray off message. It was interesting that James referred collectively to himself and Wade Tuesday as "the voice" of the team. Do they not have their own thoughts and voices? Would James' head explode if Wade expressed an independent thought, or vice versa?
This strategy is straight from the playbook of team president Pat Riley's "one voice" approach to maintaining organizational control. Riley, who orchestrated this three-headed monster of LeBron, Wade and
Chris Bosh
, has conducted a grand total of two media availabilities the entire season – brief Q&A's at two charity events. As with the Bill Parcells and Bill Belichick model in football, the one and only voice belongs to the coach. As a corollary, the two stars share a voice – rarely, if ever, saying something the other isn't thinking or wouldn't say.
"I'm louder than D-Wade, D-Wade is louder than CB," James said. "You can hear my voice from here to, anywhere obviously. Here to Akron. And D-Wade, he voices his opinion. He does it sometimes, also. But we don't step on each other's toes or anything like that. But at the same time, it's not a bed of roses with me and D-Wade and CB. We get on each other if we feel like you're not doing your job. It's constructive criticism that we need to have with one another to help our team win."
It is a fascinating sidebar to the Heat's journey through the playoffs, perfectly encapsulating the mindset of two superstars as they try to put the Celtics in the first 0-2 playoff hole of the Big Three era Tuesday night. And it highlights the luxury that they have off the court – the ability to look to each other for guidance before answering a question, exchanging small talk under their breath before deciding which one will speak – is one that does not exist on the court. The island they share in the public eye can be more easily divided in the course of a game, when split-second decisions must be made and when credit or blame unavoidably must be be assigned.
"I also think that people forget that me and 'Bron were the best of friends before we played together," Wade said. "We got criticized for being friends and hanging out before games with each other, when I'd go to Cleveland and go to his house. We got criticized for that: 'Back in the day, the
Lakers
didn't do that. Boston didn't do that.' Well, today, obviously that worked, because we're here together."
Together? Inseparable is more like it.