By Chad Reuter , The Sports Xchange/NFLDraftScout.com
College football all-star games are known as much for sloppy play as big plays. The goal for players in Saturday's Texas vs. the Nation Challenge was to take advantage of a golden opportunity to make a positive impression on scouts.
Overall, quarterback play was average at best. Rusty Smith (Florida Atlantic) made some nice throws on the day but had a mental meltdown when he ran out of the back of the end zone for a safety. Tennessee's Jonathan Crompton threw the most consistently but was only 9 for 20 for the game.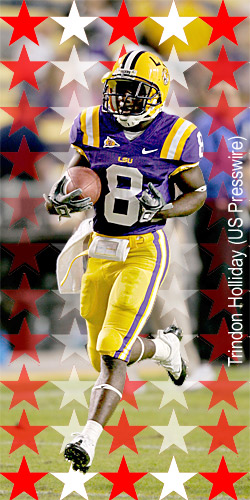 Former LSU quarterback Ryan Perrilloux (Jacksonville State) made the best throw of the day, loading up and throwing for 67 yards to Newberry's Kelton Tindal, who can run like no one else -- he's expected to run his 40-yard dash in the 4.2s at his pro day. Although Tindal didn't score, he made a nice adjustment to the ball in the air after using his elite separation speed, overcoming an up-and-down week of practices in terms of catching the ball. If he runs the blazing time most expect, look for Raiders' owner Al Davis to grab Tindal late in the draft.
Crompton's favorite target was Southern's Juamorris Stewart. Stewart failed to get his head around on a route for Crompton's throws early in the game, as he did in last week's practices. He came back strong, making multiple catches, including an outstanding catch on the sideline when coming back to help Crompton. The former Volunteer found Stewart again late in the third quarter -- behind Fresno State corner A.J. Jefferson -- to score from 36 yards out.
On the Texas side, the game was mostly about LSU speedster Trindon Holliday. He showed great balance, quickness and elusiveness with the ball in his hands playing running back, receiver and returner. He connected with Perriloux on another 67-yard play for a touchdown, going up to trap the ball against his chest near the sideline and getting downfield quickly for the score.
He consistently flipped field position on punts and kicks with quick decisions and pure speed. The return success might be viewed as a mirage by scouts, who know most of players covering kicks in this game are inexperienced on special teams, and Virginia Tech's Brent Bowden was very inconsistent putting air under the ball.