BleacherReport.com
continues their series of team-by-team mock drafts, projecting the best-case, most realistic and worst-case scenarios for each team. As we move forward we'll combine these mocks in to three-team packages for easier consumption.
Take a look!
---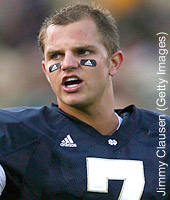 Seattle Seahawks
Coming off a hollow 5-11 season, and with a total of only nine wins in the last two seasons, the rebuilding starts now for the Seattle Seahawks.
The new regime in Seattle, GM John Schneider and head coach Pete Carroll, have an infinite list of draft needs that must be filled with the team's seven picks. And the new management will have to start drafting wisely if the franchise wants to turn the corner and regain contender-status in the NFC West. That means starting on the offensive line and extending to almost every position imaginable.
An elite offensive lineman was a priority before last year's draft, but the team decided to take linebacker Aaron Curry with the fourth overall selection.
In 2010, Seattle holds the cards with two first-round picks… the No. 6 overall from its dogged 2009 campaign… and the 14th draft position from the Broncos.
Full Mock
---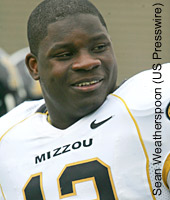 Atlanta Falcons
The Atlanta Falcons finished the 2009 season ranked 21st overall in total defense… giving up an average of 20.3 points per game.
Now, that doesn't seem too far over the league average, which was right around 20 points per game, but the Falcons were only able to muster up 22.7 points per contest. And quick match suggests that they could be 16-0 with that comparison, but as we all know, the average does not always tell the full story.
Though they gave up the same amount of points as they did last year, 325, they only scored 363 points, a drop of 28 from last season.
To the naked eye, 28 points, or less than two points per game, would not be that big of a difference. Yet it seemed to be enough to take the Falcons record from 11-5 to 9-7, a drop of two wins.
Full Mock
---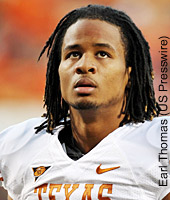 New Orleans Saints
The Super Bowl champs usually don't have many needs, and don't look to the draft and free agency as crucial pieces to return to the playoffs.
But, with an aging defense and some lackluster performance by a variety of positions, the Saints need to take this draft class very seriously if they hope to continue their success for seasons to come.
We'll take a look at the best case selections (guys who they'd be lucky to get), the worst case selections (guys who they'd have to deal with because of lack of value), and the most likely pick (guys that they are probably targeting, and should get from their current position.)
Full Mock