BleacherReport.com
continues their series of team-by-team mock drafts, projecting the best-case, most realistic and worst-case scenarios for each team. As we move forward we'll combine these mocks in to three-team packages for easier consumption.
Take a look!
---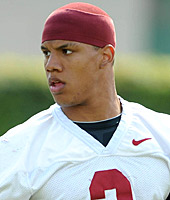 Cincinnati Bengals
The AFC North might not be the best division in the NFL but it's certainly one of the toughest. Playing Pittsburgh and Baltimore twice a year is enough to make any team battle-hardened.
Marvin Lewis did an amazing job leading his team to a division title following a 10-6 season marred by tragedy with the deaths of receiver Chris Henry and Vikki Zimmer, wife of Defensive Coordinator Mike Zimmer. For his efforts, Lewis was named 2009 NFL AP Coach of the Year.
With a few upgrades at key positions, Cincinnati is primed to make a run at the AFC Championship in 2010.
Full Mock Draft
---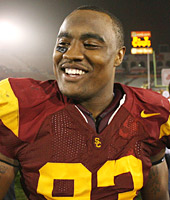 New York Jets
With a trio of rookies in key positions last year, the Jets exceeded most expectations. Unpredictable and charismatic, Rex Ryan was impressive in his coaching debut.
Mike Tannenbaum will need to make his early picks in the 2010 draft count because they traded their third, fourth, and fifth-round picks. However, they are set to receive one of the Philadelphia Eagles' two fifth-round picks from the "conditional picks" part of the Lito Sheppard deal.
As one of the final playoff teams to make a divisional round appearance, Tannenbaum will be somewhat handcuffed in the free agency market.
---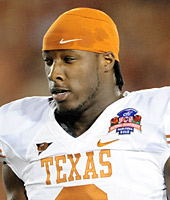 New England Patriots
I don't envy the Patriots' scouting crew's job — not at all.

If I learned just one thing writing this mock draft, it's that evaluating talent for the NFL draft is as tough a job as I've ever been faced with.

Even though it's been inappropriately labeled by many as a crapshoot, every team looks forward to the NFL draft.

Teams don't look forward to having the most amount of time to evaluate talent for the draft, though—every team wants to be the last to get started. The Patriots have had a bit more time than they'd like, but they have a lot of draft picks to look forward to in 2010, including three in the second round.

Likewise, they have a lot of holes to fill.
Top: Taylor Mays. (US Presswire) -- Middle: Everson Griffen. (Getty Images) -- Bottom: Sergio Kindle. (US Presswire)