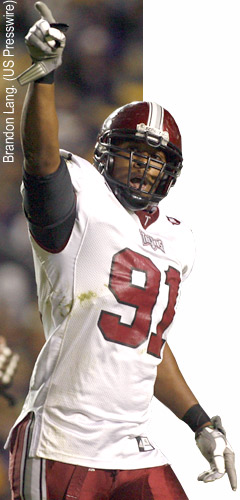 David Nestoff, DraftSite.com
Troy University injected two of the most prolific pass-rushers in to the NFL in the last half of the decade. A public mid-major in southeastern Alabama, the Trojans saw the likes of DeMarcus Ware and Osi Umenyiora leave on a train for the NFL and enjoy immense success.
With the Dallas Cowboys, Ware's impact was immediate. He left Troy as one of the most effective pass rushers in school history. At the pro level, he recorded eight sacks in his rookie season, and has had double-digit sacks each of the four years since. In the last five years, Ware leads the NFL in sacks with 64.5.
At 47.5 sacks over the last five years, Ware's former teammate and now New York Giants defensive end Osi Umenyiora doesn't fall far behind. Umenyiora is sixth in sacks over his last five seasons (he missed all of 2008 with an injury). Not to mention, his time with the Giants has rewarded the Troy alum with a Super Bowl ring.
Though, neither were locks for stardom entering their college careers. In fact, both were projects coming out of high school, which is what helped them end up at Troy.
"When defensive linemen come along, if they are pretty close to the finished product, if they can play, they are scooped up pretty fast by the SEC and the ACC," Troy's defensive line coach Randy Butler said.
Brandon Lang and Cameron Sheffield came in much the same way as their predecessors. Not finished enough products for the Division I powerhouses. They came to Troy in need of some developing.