Who helped their stock? Hurt it? Still has questions?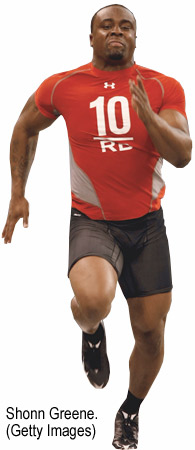 Southern Cal's Pro Day on Wednesday essentially signaled the end to a whirlwind of nearly 200 workouts across the country since the NFL Scouting Combine in February. For some, pro days are a once-in-a-lifetime opportunity to impress NFL scouts, for others it is a chance to answer questions that were raised in Indianapolis. Below is a list of players who have helped and hurt themselves the most since the combine -- and players who still have some work to do before the draft April 25-26.

Who helped their stock

• Robert Ayers, DE/OLB, Tennessee: Ayers continued his ascension up draft boards with an impressive performance at the Tennessee Pro Day, working out as a defensive end and linebacker. His 7.07 time in the 3-cone drill -- designed to show agility and quickness -- was a huge improvement over the 7.56 time he ran in the same drill at the combine.

• Shonn Greene, RB, Iowa: The 5-feet-10, 227-pound Green will never be confused with a speed back, but he improved upon his combine times in the 40-yard dash (4.65) at his pro day, running in the mid 4.5s and showed his explosiveness with a 39-inch vertical and 10 feet, 6 inches broad jump. Some teams view Green as a solid second-round prospect.

• Michael Johnson, DE/OLB, Georgia Tech: Johnson was expected to work out well at the combine and did so, but was even better at his Pro Day. Measuring in at 6-7, 266 pounds, he was clocked in the low 4.6s, did 23 repetitions of 225 pounds on the bench press and looked very good in defensive line and linebacker drills, prompting talk that he could sneak into the first round. http://images.cbssports.com/u/photo
s/baseball/mlb/img11603965.jpg
• Aaron Maybin, DE/OLB, Penn State: Maybin raised some eyebrows in gaining 25 pounds between the end of the season and the combine and was particularly impressive in many of the drills there. At the same weight at his pro day, however, Maybin's explosiveness was back. He was timed as fast as 4.64 seconds in the 40-yard dash and showed off his rare explosiveness with a 40-inch vertical and 10-10 broad jump.
Rob Rang is a Senior Analyst with NFLDraftScout.com.