Hungry to trade up? Numbers show it's usually wrong way to go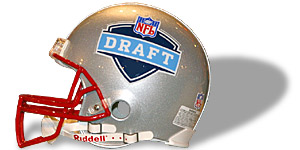 The Bears and Broncos kicked off the April festivities with the Jay Cutler blockbuster that brought Denver the 18th overall pick and a third-rounder this year to go along with a first-round pick next year.

By the end of the first round April 25, history tells us eight or nine deals will be completed that involve first-round selections. Another 40-plus will follow over the next six rounds.

It's unlikely many of those trades will come within the top 10 overall picks -- those spots don't hold the allure they once did due to the massive amount of guaranteed money those players will command.

But there will be plenty of buzz in the opening hours at Radio City Music Hall when NFL commissioner Roger Goodell steps to the lectern to announce, "There has been a trade."

Do teams trading up to get that coveted prospect or veteran typically get the better end of the bargain? Or does the trade-down philosophy really enable teams to stockpile more contributors on the roster?

Let's investigate.


Chad Reuter is a Senior Analyst for NFLDraftScout.com