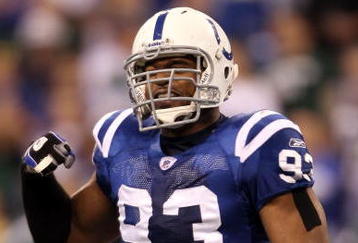 The big news over the weekend -- and the big news sure to carry on throughout the week unless someone gets caught with a dead hooker in the trunk of their rental car -- is the status of
Colts
defensive end
Dwight Freeney
and his bum ankle.
ESPN
reported on Sunday that
Freeney's ankle was not only sprained, but also had a torn ligament
. For their part, the Colts have been downplaying the severity of it, telling everyone it's nothing more than a "basketball-type" injury. And since he's not a basketball player, and since everyone knows basketball's for pussies, Freeney should be just fine:
Team spokesman Craig Kelley said Sunday night Freeney was being treated in Florida for a basketball-type injury, nothing more.

"He is under the care of our athletic training staff," Kelley said. "Nothing we have seen changes our diagnosis that he is questionable. He has a third-degree, low basketball sprain."
However, it should be pointed out that a third-degree ankle sprain means something is torn,
as Adam Schefter tells us via his Twitter
. And while Adam Schefter is not a doctor, it's kinda hard not to trust him. I mean, look at him! He's so tiny and adorable! He can Twitter that he just saw a Abraham Lincoln riding on a unicorn and I would totally believe him!
But, yea, a
third-degree ankle sprain
, at worst, means a torn ligament and, at best, means a badly stretched ligament. Either way, it's not looking good for Freeney.