Here is the weekly headlines for the week of June 6-13. I hope you enjoy these weekly that I will do from here until the end of the year, tune in each and every week! Enjoy.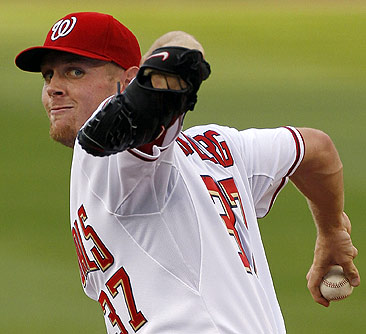 1. You know this had to be number 1, the long anticipated debut of the stellar
Stephen Strasburg
. Boy did he ever deliver with the 14 K's using those electrifying, nasty, dirty, however you wish to call it, pitches. "I'm still hungry" Strasburg comments after his debut, sit back and enjoy when he pitches the second game of his career, against the
Indians
June 13, at 1:05 E.T. Must see.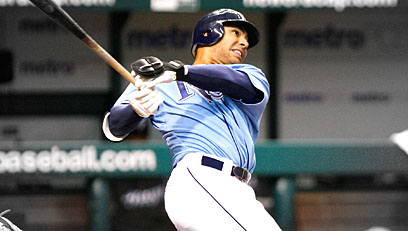 2.
Carlos Pena
is slugging his way along by homering game after game, Carlos has claimed
Rays
franchise record for longest streak with a homerun in a game with 6 straight games. Pena's average may be below the Mendoza Line (.196), but if we see him keep slugging like this he could be over .200 easily. Carlos comented " I'm trusting myself a little bit more. I'm trusting my plan." He will try and make it 7 straight games with a homerun Sunday June 13, vs. the
Marlins
at 12:40 E.T.

3. Is it a surprise? Dice-K may not be smiling anymore as he has hit the 15 day DL once again. It is just a muscle soreness reports sources. Muscle soreness? How many times have we heard that? You get the point it does not surprise anyone that, in my mind the most injury prone player in the MLB hits the DL once again. This happens as Dice-K started to get in a groove including a 1 hitter against the Philles on May 22. Bad news for the
Red Sox
.
Dustin Richardson
has been called up to replace Dice-K.

4. Here it is again,
Brandon Webb
throwing off the mound once again, we've heard this multiple times but he just never seems to return. Don't plan on Webb returning untill you see it with your own eyes. Webb threw about 30 pitches no problem says Webb. "The said I looked way more comfortable than I have." comments Webb. We will see what happens in the coming months, could Webb be eyeing a return after the ASB (All-Star Break)?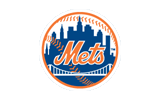 page/NYM">Mets logo" />
5. The New York
Mets
won there first road series of the season against the
Orioles
. Wait, the Mets just barely won their FIRST road series of the season? Against the Orioles!? Wow, The Mets are really struggling, no need to explain any longer. Read it over again if you don't see why they are struggling. Sorry Mets fans.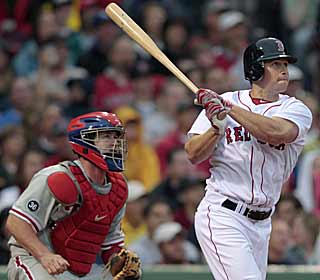 6. Happy Early Fathers Day Dad!
Daniel Nava
in his first MLB at bat, first pitch, hits a Grand Slam, becoming only the 4th player in MLB history to accomplish the great Grand Slam in his first MLB at bat. Nava's parents video-taped him thorughout the game, Nava's parents almost missed the game because of flight delays. How sad would that be? Nava finished 2-4, 2B, 1 HR, 4 RBI, I R, 1 SO. Great job kid.

7.
Ubaldo Jimenez
raised his ERA in a short 6 inning game against the
Blue Jays
. Jimenez still was amazing to watch and still has a stunning ERA of 1.16 on the year. Ubaldo is 12-1 with a 1.16 ERA, 84 Strikeouts, 34 Walks, and 93.1 Innings pitched. Ubaldo is the clear leader for NL CY-Young early in the season. Keep it up big guy.
There is the first edition of MLB Weekly Headlines. I hope you enjoy reading and leave comments to tell me if you liked it or not. Join in every Sunday on "MLB Weekly Headline" Thanks.