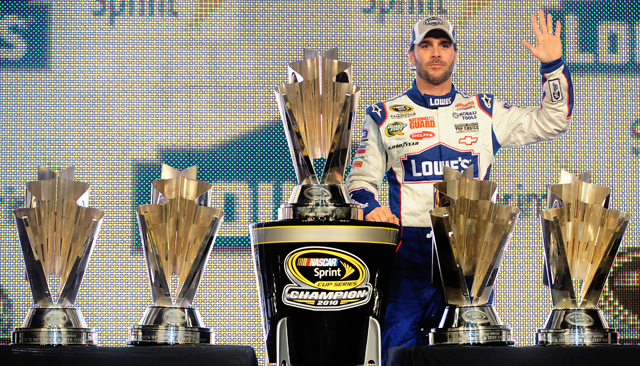 Should Jimmie Johnson start making room for a sixth championship trophy? (US Presswire)
CBSSports.com NASCAR reporter
Pete Pistone
and NASCAR producer
Brian De Los Santos
take their best guess as to how the final Chase standings will shake out.
After a regular season that produced 15 different winners including five drivers taking their first-career Sprint Cup Series checkered flags, NASCAR is ready for the 2011 edition of the Chase for the Sprint Cup.
This year's 12-driver field accounted for 21 wins in the season's first 26 races and includes five former series champions.
Jimmie Johnson is set to take aim at an unprecedented sixth straight championship, but in a season that has produced as much unpredictability as this one has, the Hendrick Motorsports driver could be ripe for finally being unseated. Johnson only has one win to his credit entering the playoff run, the fewest of any of his previous seven Chase appearances, providing some of his competitors with a glimmer of hope the dominance may be fading.
It starts at Chicagoland Speedway and wraps up with Ford Championship Weekend at Homestead-Miami Speedway, so let the Chase begin:
1. Jimmie Johnson:
It's good to be the king, and for anyone else to ascend to the throne they have to rise up and take the crown. There hasn't been a driver able to do that in the last five seasons and it won't happen this year either. Johnson and crew chief Chad Knaus know how to play the Chase game better than anyone. They put together a solid if not dominating regular season that may have been down on victories from previous years, but was not short on the key factor in winning NASCAR titles -- consistency. His feud with Kurt Busch may make this one a little more interesting, but at the end of the 10-week Chase, the story will be a six-pack for Johnson.
2. Jeff Gordon:
The resurgence of Gordon this season has been one of the year's pleasant surprises. While great attention was given to team owner Rick Hendrick's decision to pair Steve Letarte with Dale Earnhardt Jr. in the organization's massive realignment at the end of last season, Gordon and new head wrench Alan Gustafson have been remarkable. After winning the second race of the year at Phoenix, Gordon did cool off during the middle stretch of the schedule. After dropping as far back as 17th in the standings, he roared back and may have the most momentum of any driver heading into the Chase.
3. Kevin Harvick:
He came down to the wire last season and just short of ending Johnson's title run. So Harvick feels there's some unfinished business to take care of in 2011. He was very strong in the opening segment of the season, rattling off three wins in short order by pouncing on late opportunities. But there were some stumbles in the regular season and Harvick endured a summer of some discontent especially with his pit crew's performance. Things seem to have been righted and the No. 29 team is a cohesive bunch once again. RCR having only one car in the Chase may also prove to be beneficial to Harvick's effort with the organizations complete resources at his disposal.
4. Kyle Busch:
The No. 1 seed in the Chase by virtue of his four wins and place in the point standings, Busch has his best shot ever to win a Sprint Cup championship. His biggest hurdle will again be himself and overcoming the emotion that still gets the best of him at times. However, while there have been outbursts in his Nationwide and Camping World Truck Series efforts, Busch has been relatively quiet in that department on the Cup side. The nagging issues of Joe Gibbs Racing's engine department are another challenge Busch will need to conquer, but there's no reason to believe he won't be right in the thick of the championship hunt.
5. Carl Edwards:
The preseason pick by many (including me) to win the title, Edwards has had a strange year that was overshadowed by his contract situation with Roush Fenway Racing and his future career plans. Now that he has settled into a long-term deal at RFR, Edwards and crew chief Bob Osborne have no outside distractions and obstacles to get in the way of a full assault on the crown. Edwards has been very good in the weeks leading up to the Chase including a solid second-place outing at the regular-season finale in Richmond and will look to ride that momentum to a hot start in the playoffs.
6. Matt Kenseth:
The quintessential sleeper is back in the Chase and has put together a typically consistent year to punch his ticket to the playoffs. Kenseth's 14 top-10 finishes, seven top 5's and two victories were one of his strongest regular-season performances in recent years. He'll have to get past a few tracks inside the Chase -- such as Martinsville -- that have been challenges during his Cup career to make a serious charge for a second title.
7. Kurt Busch:
Busch was the only driver to stay inside the top 10 of the point standings all through the regular season. But the bad news is he fell from the lead to eighth place after enduring a summer stretch filled with struggles, bad luck and high emotion that helped rekindle a feud with Jimmie Johnson. Busch ended the regular campaign with a pair of good runs in Atlanta and Richmond but the question of his ability to keep emotions in check while also dealing with the Johnson rivalry put the Penske Racing driver's championship hopes seriously in doubt.
8. Brad Keselowski:
The other Penske driver comes into his first Chase as a bona fide underdog but one many feel can pull off the impossible and make a serious challenge for the title. Keselowski's performance since early June has been nothing short of spectacular and there may not be another team in the garage area that has as much confidence or believes in its driver more than the Blue Deuce bunch. Keselowski won over a lot of fans in the last three months and is looking to prove a lot of his previous detractors wrong.
9. Tony Stewart:
Not the season Stewart had hoped for by any means, but the two-time champion was still good enough when it counted to make it back to the Chase. Things appeared to be headed back in the right direction as the regular season came to a close, but Stewart's team doesn't have the look of a championship contender and won't be a serious challenger unless it can eliminate the roller coaster ride results that have dominated the 2011 season.
10. Denny Hamlin:
He pushed Johnson to the brink of the championship last season but has suffered through a disappointing follow-up season punctuated by engine problems and other issues that forced Hamlin to use a wild card spot to make it back to the Chase. The switch to TRD engines should be a plus for Hamlin, but a return to the form he displayed last year-- a combo platter of consistency and winning -- in short order is imperative for the JGR No. 11 team to have any shot at somehow challenging for the title.
11. Dale Earnhardt Jr.:
Earnhardt's somewhat surprising start to the year began to fade away as the season wore on and by the end of the regular campaign he was barely hanging on to a spot in the Chase. He made it after a very nervous night in Richmond and perhaps the fresh start will be what the Hendrick Motorsports driver needs. Crew chief Steve Letarte promised to change his conservative approach of just trying to make the Chase to a winning formula once the playoffs began so it will be interesting to see if there is any difference in the team's strategy over the next 10 races. Of any one of the dozen Chasers, Earnhardt needs to get off to a good start and not dig himself into a hole.
12. Ryan Newman:
The other half of the Stewart-Haas Racing duo made the Chase for the fourth time in his career and put together a nice and consistent regular season. However despite his one win and 13 top 10 finishes, Newman had only a pair of consecutive top fives in the season's first 26 races. He's not particularly strong on 1.5-mile tracks, and with the likes of Chicagoland, Kansas, Charlotte, Texas and Homestead on the Chase schedule, it doesn't bode well for the driver of the No. 39 Chevrolet.
Ho hum, I'm picking Jimmie Johnson to win it all. I gave up picking against Johnson a couple of years ago. It's a lesson in futility.
What GOOD reason is there to pick against him? If you're counting on the law of averages, that law clearly doesn't apply to the 48 team.
Except for Chicagoland, the Chase tracks are the same as they ever were. The same tracks he has shown time and time again the ability to dominate. And, quite frankly, he's not too shabby at Chicagoland, with seven top 10s in nine visits.
It's inevitable that he's going to fall short one of these years (isn't it?). He's not going to win titles until the day he retires (will he?). It's just not possible (is it?). But with five straight titles and another strong regular season in the books, I don't see how I can predict that Johnson's rein is over.
1. Jimmie Johnson:
What indication has the 48 team given that they won't be competitive during the Chase? Sure he has just one win, but he did finish second in the final regular-season points. As we've learned over the past five years, Johnson and the 48 team are built for the Chase. The only thing I could see spoiling the party is if Kurt Busch makes it his purpose to keep Johnson from capturing a sixth straight title by any means necessary. However, Busch did say they've worked it out and will cool the antics during the Chase. I'm not quite buying it.
2. Jeff Gordon:
In terms of wins, he's already having his best season since winning six times in 2007. The 24 team appears to be on top of their game heading into the Chase, with three consecutive top fives and six finishes of sixth or better in the past seven races.
3. Carl Edwards:
He looks primed for a run at the title. With 10 races to go, he already has third most top fives (12) for a season in his career. He takes three straight top 10s and two consecutive top fives into the Chase.
4. Matt Kenseth:
It's so easy to undervalue Kenseth. You'd hardly know that he won twice and finished sixth in the final regular-season standings. He's not flashy. He doesn't have a personality that screams for attention. His strength is consistency. The two tracks he won at were Dover and Texas, both of which will be revisited down the stretch.
5. Brad Keselowski:
He has come a long way. He was 25th in the standings at the end of May, and over the course of the second half of the season he staged a furious rally, just missing out on finishing the regular season in the top 10. He was especially hot over the past two months, pulling out two wins, four top fives and six top 10s the past seven races. I don't think it was a fluke and expect him to remain competitive throughout the final 10 races.
6. Kyle Busch:
This isn't the first time Busch has been a regular-season wonder boy, but for all his talent, he's never been able to carry it out through the Chase, with his best points finish (5th) coming in 2007. This very well could be the year he puts it together, but I just have this feeling that at the first sign of trouble the downward spiral will begin.
7. Kevin Harvick:
I don't know what to make of Harvick. He's tied for the season lead with four wins, including a dominant effort in the regular-season finale at Richmond, but his 13 top 10s ranks seventh. For much of the summer the 29 car was a non-factor. In fact, Richmond was the first race he had even led a lap in since Daytona at the beginning of July, a span of nine races. The win was one of only two top five finishes Harvick had in the last 13 races.
8. Kurt Busch:
It has been a wildly inconsistent season for the No. 2 team and Busch has flown off the handle a number of times. Like his brother Kyle, the question is whether he can keep his cool in times of distress. He has run well the past couple of weeks with back-to-back top fives, but that comes off the heels of three straight finish of 17th or worse.
9. Ryan Newman:
Did you know Newman has the fifth-most top fives (8) this season? That's more than Harvick, Kenseth or Kurt Busch. He's also one of only two Chase drivers -- Edwards is the other -- without a DNF. Still, his avg. finish of 13.1 is just eighth best.
10. Tony Stewart:
I thought this season might be somewhat of a struggle for the 14 team, and despite the Chase berth, it has been. He's without a win and has just three top fives (his career low is nine) and 11 top 10s (his career low is 16). If there's any good news, it's that he does have three top 10s in the past four races. Maybe the team is putting things together at the right time.
11. Denny Hamlin:
Prior to the season, if there was one driver people thought might unseat Johnson as champion this season, it was Hamlin. But he hasn't come close to living up to expectations, needing a wild-card to make the Chase. There's been signs of life in recent weeks with three consecutive top 10s for the first time this season.
12. Dale Earnhardt Jr.:
He hung on to a Chase berth by the skin of his teeth. The first half of the season saw Earnhardt in position to challenge for the points lead with seven top 10 finishes. But over the past 13 races he has managed just two top 10s. Maybe the team was just trying to play it safe to ensure a Chase berth, but even if they were holding back a bit, I don't see him as a championship contender.