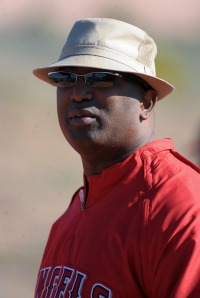 By C. Trent Rosecrans
Angels general manager Tony Reagins says he's hasn't been given orders not to spend money at the trade deadline, as had been reported recently.
"I haven't been limited in any way," Reagins told Bill Plunkett of the Orange County Register. "I've never had a conversation of that sort with Arte [Moreno] and any writer who writes something like that is misinformed."
However, the Angels currently have a $140 million payroll with approximately $28 million going to Scott Kazmir, Kendrys Morales and Gary Matthews Jr. That doesn't even take into offseason additions of Vernon Wells, Hisanori Takahashi and Scott Downs -- none of whom came cheap.
The Angels have come up in rumors about Mets outfielder Carlos Beltran and Cubs third baseman Aramis Ramirez. Another name that's popped up is Kansas City's Wilson Betemit and Melky Cabrera. There's also San Diego relievers Heath Bell and Mike Adams, who are the top relievers available.
Anaheim is entered Monday four games behind Texas in the American League West and could use some help in the bullpen and on offense.
"You always look to upgrade if you can. If the right situation comes along, we'll be open to it," Reagins said. ""But the biggest improvement is going to come from within.
"Each situation [in the past, such as Mark Teixeira in 2008, Scott Kazmir in 2009 and Dan Haren last season] was trying to put the club in position to win a championship. … If that situation presents itself at this deadline, we'll be ready to act."
For more baseball news, rumors and analysis, follow @cbssportsmlb on Twitter or subscribe to the RSS feed.