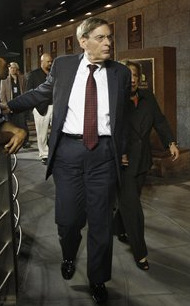 In Jayson Stark's latest "
Rumblings and Grumblings
" column, he writes that baseball and its player union has agreed to move up the deadlines for filing for free agency as well as arbitration and tender dates after the offseason about to take place.
Why?
By moving up the dates, it is thought that teams will have more time to negotiate with players and perhaps speed up the process so that multiple free agents aren't still looking for new zip codes into February.
Color me skeptical.
Teams are more patient than ever these days, and simply being allowing to talk to players days earlier won't get players signed any faster. It may get the marquee free agents in the fold faster, certainly, but that isn't the issue. The issue is how long it takes the players with average talent or exorbitant salary demands to find a home.
In addition, teams last that long for a reason -- spring training is around the corner. For players to have a shot at making a team, they've got to get a contract signed for spring training so they can fight for their job. That constitutes the vast majority of players left unsigned into February, with only the players with high salary demands left as a factor. And as the last few years have shown, they'll either come down off their price or spend the summer lying by the pool.
Will moving up deadlines by a few days change that? Doubtful.
In the same column, Stark speaks to commissioner Bud Selig about instant replay and the possibility of adding wild cards.
Selig says that he's open to expanded replay but hasn't found any galvanization for it in baseball.
"People say to me, 'Bud, does anybody call you about this -- owners, general managers, managers?' And that answer, frankly, is no. I really don't get calls on this," Selig insisted. "Frankly, outside of ESPN, I really don't hear much about it."
Selig also said that there is growing discussion both among executives, owners and fans for a possible second wild card, but unless the schedule is shortened -- which isn't happening -- it will be difficult to fit in a best-of-three wild card showdown. (You see, no one wants a one-game playoff.)
-- Evan Brunell
For more baseball news, rumors and analysis, follow @cbssportsmlb on Twitter or subscribe to the RSS feed .