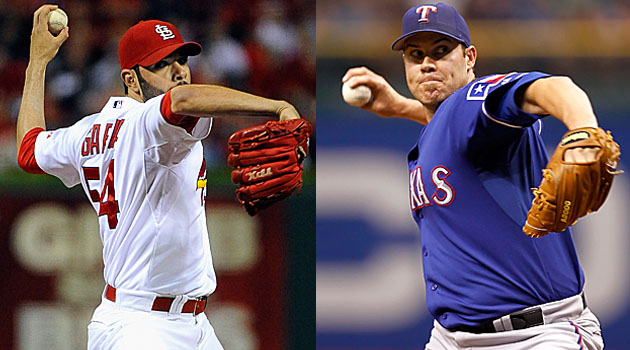 By Matt Snyder
Rangers at Cardinals, 8:05 p.m. ET, Busch Stadium, St. Louis. Cardinals lead series 1-0.
ST. LOUIS --
Jaime Garcia
, who will start Game 2 for the Cardinals, had a 7.27 ERA in two NLCS starts.
Colby Lewis
, who will start Game 2 for the Rangers, allowed eight hits and four runs in 5 2/3 innings against the
Tigers
in his lone ALCS start. So both are looking to right the ship when they square off on Thursday night.
And both have reasons for hope.
Despite the bad start last time out, Lewis has been lights-out in the postseason, posting a 4-1 record to go with a 2.37 ERA and 1.11 WHIP in six career postseason starts -- yes, including the bad last outing. He also says he loves pitching in the postseason.
"I mean, I just -- yeah, it's comfortable, it's exciting, stands are packed, towels are waving," Lewis said Wednesday. "I mean, it's kind of hard not to get pumped up for it, you know?"
Meanwhile, Garcia has some pretty drastic splits concerning home vs. road. During the regular season, he had a 2.55 ERA in Busch Stadium while having a 4.61 ERA on the road.
"Of course, being at home with the home fans and like sleeping in your own bed and things like that," Garcia said Wednesday. "But I've said this a bunch of times before, where it doesn't really get in my head where I go on the road and I don't like it or I get frustrated or something. It's happened this year where I go on the road and it's a tough game. You have the battles on the road and the good ones at home. Me personally, I don't really see anything different that I do."
"But yeah, obviously I like pitching here."
PITCHING MATCHUP

Garcia vs. Rangers:
It's a complete unknown here. Garcia has never faced the Rangers, and he has only faced
Matt Treanor
and
Yorvit Torrealba
-- neither of whom are going to start.
"They were the best team in the American League," Garcia said. "It's a tough team to pitch against. You know, just like a Milwaukee team that they've got a really good lineup, good team."
Lewis vs. Cardinals:
He faced the Cardinals all the way back in 2007 and it wasn't pretty. Lewis allowed four hits and four earned runs in just one inning. His only decent sample against major Cardinals players is against
Lance Berkman
, and it's good news for the Rangers. Lewis has only allowed two hits in 13 at-bats against Berkman, with zero homers and one RBI. That's the only remotely relevant thing we can find in Lewis' history against these Cardinals, and 13 at-bats isn't exactly a big sample.
"I've never pitched here," Lewis acknowledged. "All the dimensions are the same, 60 feet, 90 feet, all the good stuff. I think it's just another stadium."
LINEUPS
NOTES
• I don't really get excited about hitting streaks, but some people do. If that's your cup of tea, it's worth nothing that Cardinals third baseman, and NLCS MVP, David Freese has an 11-game postseason hitting streak. A 12th game would tie the franchise record, which is currently held by both Yadier Molina and Mike Matheny.
• Cardinals left fielder Matt Holliday is certainly over his hand injury. In the past four games, he's 8-for-17 (.471) with three doubles, one home run and five runs scored.
• Rangers second baseman Ian Kinsler is quietly pretty hot right now. He's eight for his last 20 (.400).
• Rangers catcher Mike Napoli is having a huge postseason. Since going 0-for-3 with two strikeouts in Game 1 of the ALDS, Napoli is 13-for-36 (.361) with two homers, seven RBI and 10 runs scored.
For more baseball news, rumors and analysis, follow @EyeOnBaseball on Twitter or subscribe to the RSS feed.