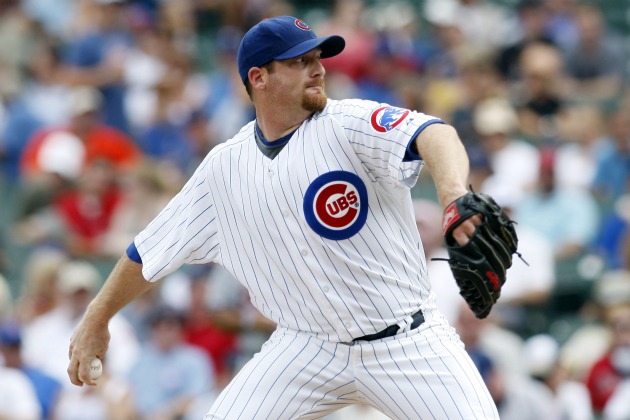 It's not yet March, but manager Mike Quade of the Cubs already knows who is starting opening day: Ryan Dempster, as MLB.com reveals.
That's actually rather significant in Chicago, as Carlos Zambrano had started the previous six openers. Zambrano had previously said he wanted the start, but would go along with whatever was decided. Big Z had a complicated 2010 -- to say the least -- but did finish with an overall 3.33 ERA in 20 starts and 16 relief appearances, posting a 1.40 ERA in his final 11 starts.
But Dempster was in the rotation the entire season for the third straight year after converting back to being a starter. His 3.85 ERA in 215 1/3 innings is a high since converting, but Dempster was the clear choice
"There's some instinct here for me," Quade said. "I do pay attention to numbers, but you weigh it out and keep looking and it's him, him, him, and finally I said, 'this is the way we're going.'
"You think about Z's finish and Demp battling all year long and doing a good job," he added. "If there was something I lost sleep over, it was the two guys who have been with us and who gets the shot. I think I just thought we'd change it up a little. Z's done it. Let's see how it plays."
Part of Quade's decision was influenced by the ability to have Zambrano lined up to battle the Brewers during the April 8-10 series. The mercurial right-hander has long had success in Milwaukee's Miller Park, including tossing a no-hitter against the Astros in 2008 when weather conditions forced a move from Minute Maid Park to Miller Park.
The third spot in the rotation will be handled by Matt Garza, while the final two spots will be filled by Randy Wells, James Russell, Carlos Silva or Andrew Cashner. Garza's spot in the rotation will allow him to ease into his new surroundings by scouting the Pirates and Wrigley Field for two games before being asked to take the hill.
With the front three settled, pitching coach Mark Riggins can get moving on lining up the spring training rotation to accede to Quade's wishe.
"They're all going to need to pitch well," Quade said. "It's opening day and a big deal, but I looked at matchups going into Milwaukee, and so on and so forth. Riggs needs to know by [Tuesday], so what am I waiting for?"
-- Evan Brunell
For more baseball news, rumors and analysis, follow @cbssportsmlb on Twitter or subscribe to the RSS feed.