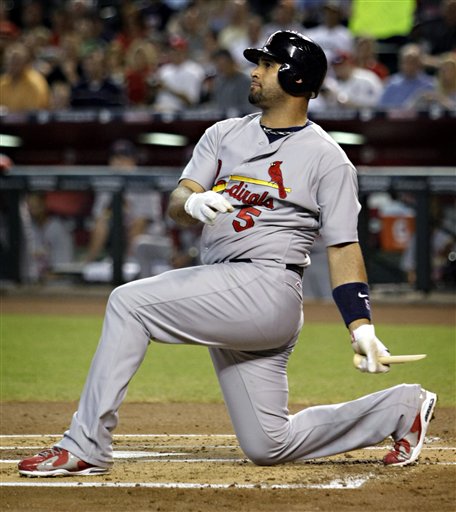 In what should be the most difficult decision among National League All-Star voters, the pick has more or less already been made.
Although online voting ends on Thursday,
Albert Pujols
' lead in first base voting makes it more or less impossible for him to be passed in the voting. Pujols leads
Ryan Howard
at first base by nearly 2 million votes in the
latest numbers released by Major League Baseball
. The teams will be announced on Sunday.
Chase Utley
seemingly has second base wrapped up and the outfield of Ryan Braun,
Jason Heyward
and
Andre Ethier
also seems pretty much safe, as does shortstop
Hanley Ramirez
.
Third base is a little more interesting, as
Placido Polanco
leads
David Wright
by fewer than 23,000 votes in the tightest race and another example of Phillie ballot-box stuffing.
Yadier Molina
leads
Brian McCann
in catcher voting by fewer than 200,000 votes.
As for Pujols, he's the easy choice at first base -- a choice most have made. He's probably the best player in the game, but he's not having the best year in the game -- or even among first basemen.
OK, this is splitting hairs, and it's by no means a mockery if he's the All-Star starter, but you can make a compelling case for two first basemen over Pujols:
Joey Votto
and
Adrian Gonzalez
. The three have pretty similar numbers, so any of the three is a solid choice, but the point is the gap shouldn't be so wide. It should be a tough decision. According to the voters, it's just not.
Here's a look at the first basemen in six categories: BA/OBP/SLG, HR, RBI and WAR (wins above replacement, an advance stat that takes defensive into consideration.
The King
Albert Pujols .305/.420/.542 16 52 2.6
The contenders
Adrian Gonzalez .306/.399/.544 16 50 3.3
Joey Votto .312/.415/.559 16 51 3.3
The usual suspects
Ryan Howard .296/.352/.517 15 50 1.4
Prince Fielder
.256/.385/.463 15 44 1.8
Not that far behind
Troy Glaus
.268/.373/.472 14 56 1.2
Adam Dunn
.276/.366/.559 17 43 2.1
Aubrey Huff
.296/.385/.512 12 42 2.3
James Loney
.294/.346/.429 5 40 1.0
Ike Davis
.264/.340/.442 9 37 0.9
Gaby Sanchez
.302/.373/.474 8 39 1.9
Adam LaRoche
.254/.342/.469 12 41 0.8
Garrett Jones
.281/.352/.446 10 33 1.3
-- C. Trent Rosecrans

For more baseball news, rumors and analysis, follow @cbssportsmlb on Twitter.