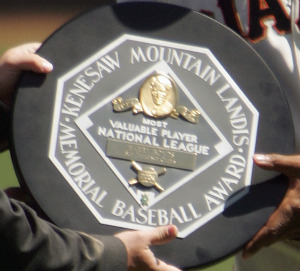 The NL MVP race is essentially a foregone conclusion now that the
Cardinals
continue to sink deeper and deeper in the NL Central Division, leaving
Joey Votto
's sublime season to shine as the
Reds
eye their first postseason appearance since 1995.
Votto is second in batting average, third in home runs and first in RBI, giving him a very real chance at the Triple Crown, although the top candidates in each category are so closely bunched together that it only takes a few games for standings to switch around.
Even if Votto has to be considered the prohibitive favorite, there are others that will leech votes from Votto. Let's break down who appear to be the strongest candidates.

1B Adrian Gonzalez
San Diego Padres
.299/.388/.516, 76 R, 26 2B, 27 HR, 87 RBI, 5.5 UZR/150, 4 DRS, 4.9 WAR
Gonzalez hasn't had a season like 2009 -- but it's awfully had to replicate 2009 especially with Petco Park your home for half the games. His average is .05 points off a career high set in 2006, but his walk rate and power numbers have sank just enough that he can't be considered one of the favorites for the MVP. If -- or when -- Gonzo gets out of a Padres uniform, he'll likely win a MVP award.

LF/CF/ RF Carlos Gonzalez
Colorado Rockies
.332/.367/.610, 89 R, 26 2B, 8 3B, 31 HR, 93 RBI, 20 SB -6.8 UZR/150, -6 DRS, 4.5 WAR
CarGo has had a ridiculous season, and now the
Diamondbacks
and
Athletics
have to be kicking themselves for giving up on Gonzalez too soon. The knock on the outfielder was that his poor plate discipline wouldn't be enough to overcome his other attributes... except his power has taken a massive jump to elite status even as he takes a step back in walk rate from a 2009 mark of 8.8 percent to 5.5 percent. Gonzalez will lose votes thanks to his drastic home/road split. At Coors Field, he's bashing to a .391/.436/.790 mark. On the road, he's at .275/.296/.437 and has a walk rate of 3.1 percent as compared to 7.9 percent at home. Seems like he knows he doesn't perform away from Coors and is pressing as a result.

1B/LF/RF Aubrey Huff

San Francisco Giants
.289/.385/.512, 82 R, 30 2B, 4 3B, 22 HR, 77 RBI, 11.5 UZR/150 (1B), 7 DRS (1B), 3.6 UZR/150 (OF), 4 DRS (OF), 4.7 WAR
Huff will garner a ton of "feel-good" votes as the 11-season veteran suffered through the worst OPS of his career in 2009 since his first full season in the majors with Tampa Bay in 2001. A late-season switch to Detroit only depressed his value even more, and he signed a small deal with the Giants with his tail tucked between his legs. Well, his chest is puffed out now as he's cobbled together nothing short of a fantastic year while splitting time between first, left and right and being solid with the glove. That versatility only adds to his value and he could surprise quite a few people with how high he could finish in MVP balloting.

C Brian McCann
Atlanta Braves
.285/.392/.492, 55 R, 21 2B, 20 HR, 71 RBI, 3 DRS, 5.1 WAR
McCann has constantly been overlooked as a premium power bat at a position where even a league-average bat is considered fantastic. Perhaps now that McCann has emerged as Atlanta's best hitter as the team leads the division will garner some MVP honors for the lefty. The scary part is that McCann hasn't even sniffed his career season, which came in his first full year as the starting catcher (.333/.388/.572) -- and no MVP votes. What does McCann have to do to get some respect? Is it the counting numbers -- runs and RBI being too low? The fact is that McCann is a catcher, and so naturally loses about 100-200 plate appearances due to needing to be rested more often. The NL lacking a DH compounds the problem for McCann. Don't hold his low counting statistics against him, not when his actual production is so high, and extraordinary for a catcher.

1B Albert Pujols
St. Louis Cardinals
.313/.407/.593, 92 R, 31 2B, 35 HR, 95 RBI, 12 SB, 1.9 UZR/150, 2 DRS, 5.8 WAR
Pujols is still a fantastic hitter, but has three things working against him in pursuit of a third-straight MVP award: 1) General apathy by voters in voting for him again, 2) The Cardinals slip-slidin' away in the NL Central Division race and 3) Votto's superhuman efforts causing Pujols to no longer be head-and-shoulders above anyone else. Whether deserved or not, the first issue would probably have torpedoed his chances even if the Cards were neck-and-neck with Cincinnati.

1B Joey Votto
Cincinnati Reds
.325/.424/.603, 91 R, 27 2B, 32 HR, 97 RBI, 12 SB, 3.8 UZR/150, -3 DRS, 6.3 WAR
Yep, Votto's the presumptive favorite for the NL MVP Award -- but this is far from his introduction to being a top hitter. He finished 22nd in MVP balloting last season when he checked in at .322/.414/.567 and lost out on the Rookie of the Year Award in 2008 to the
Cubs
'
Geovany Soto
. His rookie season boasted a line of .297/.368/.506 as a 24-year-old, which many veterans would kill to have in just one prime season. He doesn't show any signs of slowing down and will give Pujols a tough road to any future MVP awards.
--
Evan Brunell

For more baseball news, rumors and analysis, follow @cbssportsmlb on Twitter or subscribe to the RSS feed .