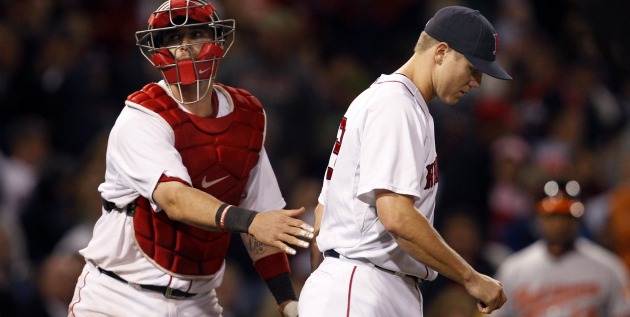 By Evan Brunell

Eric Hosmer, Royals:
Hosmer was lights out, going 5 for 5 on the night, driving in three runs and blasting his 18th home run of the season. His batting average is now a cool .300, and Hosmer seems like he should finish no lower than second in Rookie of the Year voting.
Jeremy Hellickson
likely has the award sewn up, but it's been a great year for Hosmer, whose five-night night was the first since
Billy Butler
accomplished the feat in July 2009.
Mat Latos, Padres:
Latos pitched his best start of the year on Tuesday, coughing up just one run in 8 2/3 innings against the
Rockies
. That lone run came in the ninth inning on a RBI single, but
Heath Bell
came on to finish out the game. Latos has only approached this kind of dominance once before, back on May 25 against the
Cardinals
. It's encouraging to see Latos finish the season strong, as his ERA has dropped in each of his September starts, entering the month at 3.82 and now resting at 3.60.
Ben Revere, Twins:
Revere has hit in seven straight games, including a 4-for-5 night on Tuesday, swiping his 33rd stolen base. His batting average is now up to .264. Add in strong defense and the ability to swipe 40 bases a season, and Revere's stock is on the rise. The Twins will have to decide whether to keep both Revere and
Denard Span
and play one off the bench or deal one of the two for help. Odds are you'll see Span traded, likely to the
Nationals
, for middle infield and/or relief help.
---
Jonathan Papelbon, Red Sox:
The last time Papelbon allowed a run, it was July 16. Unfortunately, that streak is now snapped after a bout of lousy timing thanks to a bases-loaded double scoring three
Orioles
runs that pushed Baltimore to a 7-5 victory. Papelbon came in with one out after
Daniel Bard
allowed two singles. While Papelbon punched out
Chris Davis
, he couldn't avoid another single and then a double to further send Red Sox fans into a pit of malaise.

Drew Stubbs, Reds:
Drew Stubbs punched out twice on Tuesday, giving him 200 strikeouts in a season. That gives him the distinction of being the first player not named
Mark Reynolds
to accomplish the feat. Even
Adam Dunn
hasn't done it, which shows you just how difficult it is to reach 200 strikeouts. "It is what it is," Stubbs told Eye on Baseball's C. Trent Rosecrans after the game. "It's not something anyone's ever proud of. I don't know. I don't know what else to say." Stubbs struck out a ton last season as well during a year where he notched a 20/20 season but has become a bit of a free swinger this year which may have something to do with his disappointing year at the plate. He's been increasingly hacktastic the last couple of months.
Rich Harden, Athletics
: Ever since the trade deadline, Harden has been alternating clunkers with good games. There's the 10 strikeout game against the Royals... coughing up six runs to the
Yankees
... blanking the Jays over seven innings... and Tuesday night, allowing five earned runs to the
Rangers
in just three innings, spiking his ERA to 5.17. Despite the late tailoff, Harden's talent is still so great that he'll get plenty of calls this offseason to be either a starter or reliever.
For more baseball news, rumors and analysis, follow @EyeonBaseball on Twitter or subscribe to the RSS feed.