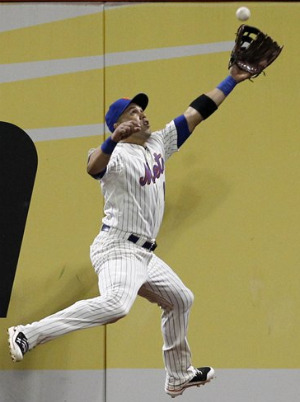 Longtime center fielder
Torii Hunter
moved to right field earlier in the season to make room for
Peter Bourjos
.
Could another center fielder be on the move?
Not so fast,
Carlos Beltran
says, while admitting a move is likely inevitable.
"Later in my career, I probably will think about switching, but now I don't have to make that decision,"
Beltran told
the
New York Post
, brushing aside the idea that a move to right or left field for 2011 could save his surgically-repaired knees.


However, a move to the corners could benefit the Mets as Angel Pagan, clearly deserving of being a starter, also prefers center field.

And the rub -- plays better in center than Beltran.

"That's my position," Pagan said of center field. "Since I signed, I've been playing center field pretty much my whole minor league career and I feel comfortable in center."
Hitting .294/.346/.436 in his first full season as a starter, the 28-year-old also has proven to be one of the better fielders up the middle in the game while Beltran has turned from a three-time Gold Glover into a liability.
Beltran's not having any of it, though.
"I'm a center fielder, too," Beltran said. "That's what I feel comfortable doing, too. [Pagan is] able to play right or left. The most important thing is he's able to play every day."
Stubborn? Perhaps, but do you really expect any different? To succeed, baseball players
have
to be stubborn.
But Beltran's not without his reasons, feeling that he can improve in center next season as his legs improve and get further and further away from surgery conducted in the offseason that knocked him out of big-league action until July 15.
"When you make a decision like that, you have to be 100 percent sure it's the right thing, and I'm not at that point," Beltran said. "I just haven't been able to be healthy this year."
For now, the Mets won't try to push Beltran out of his home, but manager Jerry Manuel cautioned that Beltran eventually won't have a choice.
"A lot of guys have shifted to one of the corners," Manuel warned. "That has to be part of [Beltran's] thinking process. Not necessarily now, but at some point."
Beltran has $18.5 million left on his seven-year, $119 million deal, but given clashes with the organization over his surgery and his slow return (.237/.332/.379 in 223 PA), it has been thought that New York may trade Beltran in the offseason.
That's one way to take care of the center field problem.
-- Evan Brunell
For more baseball news, rumors and analysis, follow @cbssportsmlb on Twitter or subscribe to the RSS feed .